Biomedical Informatics Core
---
---
---
---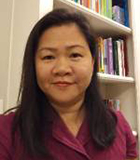 San Chu, MS, MApStat
BMI Analyst
Pennington Biomedical
Contact this core
Email: BiomedInformatics@lacats.org
---
About This Core
The LA CaTS Biomedical Informatics (BMI) Core will support the clinical and translational research activities of the entire LA CaTS collaborative. The specific goals of the BMI Core include:
Provide BMI resources to LA CaTS Investigators by merging existing BMI expertise at LA CaTS institutions, coordinating and assuring continuous BMI support for investigators, and providing the basis for implementing additional BMI capabilities.
Support LA CaTS Cores, Resources, and Members by expanding BMI capabilities to address their specific needs and by providing education in BMI use.
Use BMI to enhance both the quantity and quality of translational research, providing BMI support for the full scope of translational research, and extending from idea generation to use of clinical decision support systems to implement findings from translational research.
Use BMI to enable collaboration between LA CaTS Investigators and other Louisiana-based organizations and between LA CaTS Investigators and non-Louisiana organizations including other CTSAs.
To accomplish the mission to enhance translational research capacity in support of our investigators' research studies, the BMI Core has adopted the following specific aims:
Specific Aim 1. To provide training and enhance utilization of high-resolution bioinformatics and artificial intelligence/machine learning algorithms.
Specific Aim 2. To expand our existing support for collaboration and data sharing within LA CaTS Cores and between LA CaTS investigators and CTSA Centers, as well as with Centers of Biomedical Research Excellence (COBRE) and the Louisiana Biomedical Research Network (LBRN) by broadening the geographic scope and population coverage of data resources available to LA CaTS investigators.
Specific Aim 3. To expand our educational mission, in close cooperation with the Professional Development (PD) Core, to create a pipeline of translational data scientists with emphasis on diversity and to enable and support data research by citizen scientists and community stakeholders.
The BMI Core is an integral part of LA CaTS and provides a comprehensive research infrastructure, innovative initiatives and significant collaborative opportunities essential to the Center's overall mission to significantly transform clinical and translational research throughout our region and address Louisiana's chronic disease burden.