LA CaTS Webinars & Videos

The LA CaTS Center Cores and Resources provide a brief overview of the services and collaborations offered to investigators and how to contact them.
November 6, 2020
Dr. Daniel Sarpong, LA CaTS Community Engagement Outreach Resource Director, Xavier University, hosted an informational conference call for those interested in applying for the 2020-2021 Community Scholars Program. Questions concerning this call or the Community Scholars Program can be sent to Community@LACaTS.org.
September 25, 2019
The LA CaTS Center Senior Investigator Symposium in 2019 featured nationally recognized experts who presented on the following topics:
Paula Strickland, PhD, MPH, Director, Office of Research Training and Special Programs, Division of Extramural Activities, National Institute of Allergy and Infectious Diseases, NIH "Grant Writing for Success: Preparing an NIH Grant Application"
Stanley Korenman, MD. Associate Director, CTSI Associate Dean for Ethics, David Geffen School of Medicine at UCLA, Distinguished Professor, Medicine Distinguished Professor, Endocrinology Diabetes and Hypertension "Bias in Research"
Mukesh Kumar, PhD. RAC. Chief Executive Officer at Brij Strategic Consultations, Adjunct Assistant Professor, Clinical Research and Leadership, George Washington University School of Medicine and Health Sciences, Washington DC "FDA-compliant Clinical Protocols"
September 24, 2018
The LA CaTS Center Senior Investigate update featured nationally recognized experts who presented on the following topics:
Jeffrey Cohen, HRP Consulting Group - "Privacy and Information Security Issues in Clinical Research"
Anthony Keyes, Johns Hopkins, Senior member of US Taskforce of Clinicaltrials.gov - "ClinicalTrials.gov"
Leslie E. Wolf, Professor of Law, Georgia State University College of Law, Director of Center for Law, Health Society-"Conflicts of Interest in Research"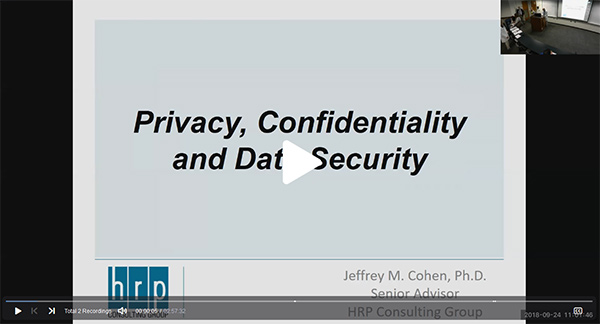 April 13, 2017
Terry Davis, PhD & Connie Arnold, PhD
LSUHSC-Shreveport
LA CaTS Center Health Literacy Core
Professional Development Annual Plenary Talks
Dr. Thomas A. LaVeist presents "Racial Inequities in Health: What we know and what we think we know" at the LA CaTS Professional Development Core Retreat on March 25th, 2022.
"The Future of NIDDK Clinical Research" by Dr. Griffin Rodgers, M.D., M.A.C.P., Director of National Institute of Diabetes and Digestive and Kidney Diseases (NIDDK). The event was sponsored by the LA CaTS Professional Development Core and was held Friday, March 26th, 2021 from 12pm – 1pm.
Dr. Paige Jarreau, Director of Science Communication and Social Media, LifeOmic and Science Communication Specialist, LSU College of Science presents a plenary talk entitled, Using Social Media for Science . The event was part of the Professional Development Core s Annual Retreat and was open to all member institutions.
The 2019 Professional Development Retreat featured a plenary talk by Dr. Robert Califf, Duke University and former FDA Commissioner. Dr. Califf presented a 1-hour talk on Clinical Research Evidence Generation in the Digital Era. Questions about this talk can be sent to adcr@tulane.edu."
Subha Madhavan, PhD Director
Innovation Center for Biomedical Informatics
Georgetown University
The 2018 Professional Development Core Retreat featured a plenary talk by Dr. Madhavan on translational bioinformatics . This activity has been approved for AMA PRA Category 1 CreditTM. Tulane University Center for Continuing Education is accredited by the International Association for Continuing Education and Training (IACET) and is authorized to issue the IACET CEU. Tulane University Center for Continuing Education is authorized by IACET to offer .2 CEUs for this program. Questions about this talk should be sent to adcr@tulane.edu.
Mona N. Fouad, MD, MPH
Senior Associate Dean for Diversity and Inclusion Director and Professor, Division of Preventive Medicine
Director, Minority Health and Health Disparities Research Center
School of Medicine
University of Alabama at Birmingham
The PD Core of LACaTS was privileged to have Dr. Mona Fouad present the keynote lecture at our annual retreat in April. Dr. Fouad brought her career-long dedication to incorporating diversity in patient-oriented translational research. She taught mechanisms of formulating research and presenting the research as an outgrowth of the participating population. We are privileged to make her entire lecture available to the LA CaTS community in the hope that our population of patients will be better served.
Christine Pfund, PhD
University of Wisconsin-Madison
2015 LA CaTS Annual Education, Mentoring Career Development Core Retreat
LA CaTS Louisiana Lagniappe Seminar Series
Dr. Yilin Yoshida PhD presented "Sex differences in risk of cardiovascular disease associated with diabetes" at the LA CaTS Lagniappe Seminar Series on June 16th, 2022.
On Thursday, May 19th, 2022, the LA CaTS Professional Development Core kicked off a monthly talk entitled the "Lunchtime Lagniappe Seminar Series". This series will feature an Early Career Scientist presenting a 30 minute talk. May's featured scientist is Candice Myers, PhD (Pennington Biomedical Research Center) speaking on "Food Insecurity and Associated Heath Disparities in Adiposity and Weight Loss".



LA CaTS Monthly Webcasts
- LA CaTS Center REDCap Administrator Aimee' Stewart (Pennington Biomedical) presents REDCap Tips and Tricks. LA CaTS Cyberinfrastructure Enhancement Core Director, David Alexander, presents some remote working tools which you may not be using currently.
- Join Brian Melancon, LA CaTS Tracking and Evaluation, as he walks us through LA CaTS Services and how to request them, through the LA CaTS Service Catalog SPARC.
- LA CaTS Health Literacy Core Director Terry Davis, PhD presents on the Role of Health Literacy in Improving Health Communications and Outcomes.
- Dr. Peter Katzmarzyk, Co-Director of the LA CaTS Pilot Grants Program gives an overview of the present and upcoming funding opportunities and helpful tips for those wanting to apply.
- Join Dr. Daniel Sarpong, Dr. Betty Kennedy and Tynesia Fields in their presentation "Promoting a Bi-directional Relationship between LA CaTS and the Community"
- David Alexander of Cyberinfrastructure Enhancement demonstrates the multi-factor authentication features of REDCap and some use cases.
- Dr. Ron Horswell, LA CaTS Biomedical Informatics Core, presents on how investigators can access large existing databases for research studies, why you might need to access them and how the BMI Core can help.
- Brian Melancon, LA CaTS Tracking Evaluation Manager, walks you through services available from the LA CaTS Center and how to access them.
- Leigh Lamonica, JD, LA CaTS Ethics Regulatory Core Director, presented There is Nothing Common About the New Common Rule