Matthew D. Woolard, Ph.D.
LSU Health Sciences Center Shreveport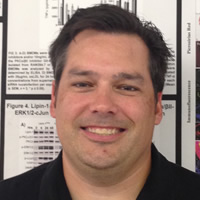 Matthew D. Woolard, Ph.D. is an Assistant Professor at Louisiana State University Health Sciences Center-Shreveport in the department of Microbiology and Immunology. Matthew Woolard received a Bachelor of Arts degree in the field of Biology from Austin College in Sherman Texas in 1999. He then went to Graduate School at the University of North Texas in Fort Worth and received his Ph.D. in the field of Biomedical Sciences with an emphasis in Immunology in 2004. Dr. Woolard did his Post-Doctoral Fellowship in the laboratory of Jeffrey Frelinger, Ph.D. at the University of North Carolina in Chapel Hill and joined the faculty at LSUHSC-Shreveport in 2009.
Dr. Woolard's laboratory is interested in understanding the influence of lipid synthesis on macrophage function during disease. Cardiovascular disease (CVD) is the number one killer of Americans. A major cause of CVD is atherosclerosis; whereby high levels of cholesterols get deposited into the arterial intima. Currently, his laboratory is investigating the underpinnings of macrophage inflammatory responses that promote aspects of atherosclerosis that include atheroma formation, plaque progression, and ultimately plaque instability that causes catastrophic CVD such as heart attacks and strokes.
The arterial deposition of cholesterol into the arterial intima elicits a macrophage mediated response to clear this excess cholesterol. However, due to mechanisms that are not clearly understood, these macrophages begin to release pro-inflammatory mediators that ultimately causes the catastrophic CVD. When macrophages take up excess cholesterol, they must make news lipids in order to store this excess cholesterol. Dr. Woolard's work has demonstrated that the generation of new lipids in response to cholesterol also contributes to macrophage inflammatory responses that cause atherosclerosis and ultimately CVD. His laboratory has identified a lipid synthetic protein called lipin-1 that connects macrophage lipid production to the inflammation that contributes to CVD.
Dr. Woolard's LA CaTS project is to determine if macrophage-associated lipin-1 contributes to Atherosclerosis. While his previous work highlighted the contribution of lipin-1 to cholesterol mediated inflammatory responses in macrophages in cell culture models, he next sought to determine whether macrophage-associated lipin-1 mediates atherosclerosis in an animal model of disease. Furthermore, he is seeking to determine the mechanisms by which lipin-1 causes macrophages to become inflammatory. Using a novel animal model developed in Dr. Woolard's lab, he has been able to show that macrophage-associated lipin-1 contributes to the processes of atherosclerosis and CVD. This could mean that blocking lipin-1 activity in humans may reduce atherosclerosis and more importantly deaths caused by heart disease. The data generated from the LA CaTS proposal was instrumental in the acquiring a R01 grant from the National Institute of Health.