Maissaa Janbain, MD
Tulane University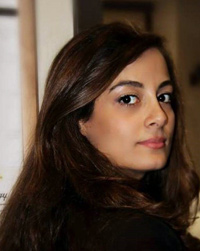 Maissaa Janbain, MD grew up in Beirut, Lebanon, and graduated from Lebanese University School of Medicine in 2005. Later that year, she came to the United States to complete her training in Internal Medicine. She graduated from Case Western Reserve University in 2009 and joined the school of medicine as a clinical instructor with clinical appointment at the VAMC, Cleveland. In 2012, joined Tulane School of Medicine, Section of Hematology Oncology for fellowship training, and after graduation, accepted a position of Assistant Professor of Clinical Medicine. Throughout her training and interactions with great mentors, she started to shape her career as an independent clinical and translational investigator in hemostasis.
Starting with a National Hemophilia Foundation Fellowship in 2014, she was able to seek more training in coagulation medicine with national and international experts. Dr. Janbain has focused on the role of ROTEM, a global visco-elastic study, as a biomarker for multiple hematologic disorders. Assessing hemostasis and optimizing it from a global standpoint, lead to the development of her first interventional clinical trial, studying the role of oral clot stabilizers (i.e. Tranexamic acid pills) in preventing spontaneous bleeding in addition to clotting factor concentrates in patients with hemophilia. She had the opportunity to refine her clinical trial protocol as an awardee and scholar at the Clinical Research and Training Institute of the American Society of Hematology (ASH) in 2015. In vitro and animal studies done in collaboration with mentors in France were very promising; they were able to show that clots are more stable with using less amount of clotting factor concentrates (usually given IV and very expensive) in addition to oral Tranexamic acid, providing better hemostasis control in patients with hemophilia. This could potentially improve prophylaxis treatment in these patients with no increased burden of cost or intravenous injections. Results of the in vitro study were presented orally at the International Society of Thrombosis and Hemostasis (Berlin) in July 2017, and results of the animal study will be presented at ASH in 2018. The clinical trial will open to enrollment summer 2018.
Dr. Janbain received a LA CaTS Roadmap Scholar award in 2015, the Hemostasis and Thrombosis Research Society (HTRS) Mentored Research Award in 2017 and was accepted into the Tulane SOM Physician Scientist Pipeline program in 2017. She continues to work on projects and trials on global hemostasis. Improving the quality of life and care of patients with hemophilia is her goal. As part of the ADVANCE US group, and a co-chair of the project committee, they are focusing on cardiovascular health in patients with hemophilia, and outlining guidelines for the management of these patients while they need to be on blood thinners and antiplatelet agents.
Relevant publications and presentations:
Jabbar AY, Baydoun H, Janbain M, Ferdinand KC. Current concepts in the management of stable ischemic heart disease and acute coronary syndrome in patients with hemophilia. Ann Transl Med 2018. doi: 10.21037/ atm.2018.05.29
Janbain M, Bordet JC, Leissinger C, Negrier C, Dargaud Y. Evaluation of the hemostatic effect of the combination of factor concentrate with tranexamic acid (TXA) in vitro using global assays. Oral Communication at ISTH Berlin July 2017
Janbain M, Madison A, Lefante J, Ksayer R, Leissinger C. Analysis of Racial Differences in Whole Blood and Plasma Using Rotational Thromboelastometry. Presented at THSNA meeting San Diego March 2018 and submitted to Thrombosis Research Pending Review.
Janbain M, Pipe S. What is the role of an extended half-life product in immune tolerance induction in a patient with severe hemophilia A and high-titer inhibitors? Hematology Am Soc Hematol Educ Program. 2016; 2016:648- 649.
Chai-Adisaksopha C, Nevitt SJ, Simpson ML, Janbain M, Konkle B. Bypassing agent prophylaxis in people with hemophilia A or B with inhibitors. Cochrane Database Syst rev.2017 Sep 25; 9:CD011441.doi: 10.1002/14651858.CD011441.pub2.
Dargaud Y, Lienhart A, Janbain M, LeQuellec S, Enjolras N, Negrier C. Use of thrombin generation assay to personalize treatment of breakthrough bleeds in a patient with hemophilia and inhibitors receiving prophylaxis with emicizumab. Haematologica. 2018 Apr;103(4):e181-e183. doi: 10.3324/haematol.2017.185330. Epub 2018 Feb 22.