Lydia Bazzano, MD, PhD
Tulane University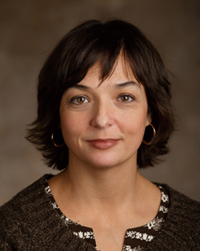 Lydia Bazzano, MD, PhD is a native of New Orleans. She earned her Bachelor's degree summa cum laude in Biology, her Medical Doctorate, Masters of Public Health and Doctor of Philosophy in Epidemiology at Tulane University. She completed internship and residency in Internal Medicine at Beth Israel Deaconess Medical Center associated with Harvard Medical School in Boston and returned to New Orleans to accept a position as Assistant Professor of Epidemiology at the Tulane School of Public Health and Tropical Medicine in 2005. In 2012, she became Associate Professor of Epidemiology with tenure and in 2014 was appointed Director of the Center for Lifespan Epidemiology Research, Lynda B and H Leighton Steward Professor in Nutrition Research, and Chair of the Bogalusa Heart Study Steering Committee.
Dr. Bazzano's main focus of research explores the relationship of diet, lifestyle and heart disease risk factors with health outcomes among participants of the Bogalusa Heart Study. She has worked on dietary and lifestyle risk factors for poor health outcomes since beginning her doctoral studies in 2002. Dr. Bazzano has served as principal investigator for behavioral weight loss clinical trials as well as observational studies funded by the National Institutes of Health, and has also been appointed to the 2020 USDA Dietary Guidelines Advisory Committee.
In December 2016, Dr. Bazzano was awarded a LA CaTS Center Pilot Project Award. The goal of Dr. Bazzano's multi-institutional pilot project with Dr. Owen Carmichael of Pennington Biomedical Research Center, was to collect brain MRI based measures of subclinical brain injury in midlife and relate them to cardiovascular disturbances occurring earlier in life. Accumulating evidence that shows that heart and blood vessel issues throughout the lifespan promote sub-clinical brain injury later in life, increasing risk for adverse outcomes including cognitive decline, dementia, stroke, depression, gait disturbance, and early mortality. Unfortunately, the relationship between cumulative exposure to cardiovascular conditions and brain health is under-studied due to difficulty in prospectively collecting cardiovascular data across the lifespan. The Bogalusa Heart Study has >40 years of detailed assessments from childhood through adulthood in a semirural, biracial community, and since 2012, cognitive performance. In the pilot project 50 participants with varying lifespan cardiovascular risk factors underwent MRI at Pennington Biomedical Research Center under the direction of Dr. Carmichael. Measurements of brain tissue volumes, lesion burden, white matter integrity, infarction, cerebral perfusion, and functional and structural connectivity were collected. From that data, Drs. Carmichael and Bazzano were able to identify a relationship between glucose and insulin resistance from childhood/adolescence with brain health indicators in mid-life. This served as preliminary data for the funded R01AG062309 entitled, "Early lifeglycemic status and Alzheimer's disease neuroimaging markers in middle age: the Bogalusa Heart Study" which supports more extensive data collection to examine this issue and involves collaboration between Pennington Biomedical Research Center, Tulane University and Mary Bird Perkins Cancer Center.