Gary E. Sander, MD, PhD, FACC, FAHA, FASH
Professor of Medicine
Heart & Vascular Institute
Medical Director, Tulane In-Patient Cardiology Services, ILH
Tulane University Health Sciences Center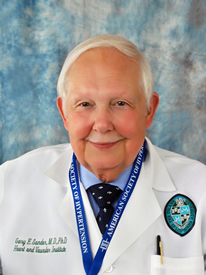 Personal Biosketch
Dr. Gary Sander is board certified by the American Board of Internal Medicine in both Internal Medicine and Cardiovascular Diseases. He holds fellowship status with the American College of Physicians, American College of Cardiology, the American College of Chest Physicians, the American Heart Association, and the American Society of Hypertension, and membership in such related organizations as the Southern Society of Clinical Investigation and the American Lipid Association. Before retirement from the LSU system, Sander served as a tenured Professor of Medicine in the Section of Cardiology at Louisiana State University Health Sciences Center. He now serves as Professor of Medicine in the Heart and Vascular Institute at Tulane University Health Sciences Center in New Orleans and Director of Tulane Cardiology Inpatient Services at the Interim LSU Hospital in New Orleans. In this position he supervises medicine house staff and cardiology fellows in the practice of cardiology as well as assisting with the development of their research interests. He has authored over 130 publications and book chapters dealing with various aspects of Cardiovascular Medicine, and has taught and lectured extensively in these areas as well.
Dr. Sander's primary interest is hypertension. He is designated as a Specialist in Clinical Hypertension by American Society of Hypertension, and has also been elected as a fellow. Sander has been active in the Gulf Chapter of ASH, has served as its president and has been instrumental in resuming annual meetings. He considers translational research a critical component of this hypertension research, and considers the implementation of this research proposal as a primary objective. Dr. Sander's particular interest is in arterial stiffness, as measured by augmentation index and pulse wave velocity, as indicators of hypertensive cardiovascular disease beyond that recognized from blood pressure alone, which is actually only a biomarker.
Key Publication
Chester RC, Sander GE, Fernandez C, Chen W, Berenson GS, Giles TD. Women Have Significantly Greater Increase Between Central and Peripheral Arterial Pressure Compared to Men: The Bogalusa Heart Study. J Am Soc Hypertens.2013:7:379-85.
LA CaTS Pilot Project Description
This translational research study will investigate whether or not the presence of a certain protein found in the urine of some subjects with high blood pressure can predict the type of currently available antihypertensive medications that will best reduce blood pressure in those subjects with high levels of this protein. Angiotensinogen (AGT) is the only known substrate for renin, an enzyme that controls activation of the renin - angiotensin system (RAS), an important hormonal system in the regulation of blood pressure. AGT levels can influence the activity of the RAS; increased AGT levels may lead to increased angiotensin peptide formation and consequent hypertension and renal injury. Enhanced AGT mRNA and/or protein levels within the kidney (intrarenal) have been observed in several experimental models of hypertension. Thus, intrarenal AGT plays an important role in the development and progression of hypertension. While there is evidence that the intrarenal RAS is stimulated in various diseases and pathophysiologic states, there are no means currently available to directly quantitate the magnitude of the activation of the intrarenal RAS. This clinical translational study will define and characterize the uAGT (urinary AGT) levels in hypertensive subjects and correlate these uAGT levels with response to angiotensin II type 1 (AT1) receptor blockers (ARB) as opposed to potassium sparing diuretic therapy. The overall hypothesis is that uAGT levels will be a novel biomarker of the intrarenal RAS status and will provide an index of efficacy of treatment with ARB. This study will quantitate not only blood pressure by office and 24-hour ambulatory blood pressure measurements, but will also employ non-invasive techniques called applanation tonometry to measure augmentation index and vascular ultrasound to measure pulse wave velocity to more accurately characterize the degree of stiffness of the large arteries. Blood pressure itself is actually only a biomarker of hypertensive cardiovascular disease, and as such an indirect estimate of arterial stiffness. Augmentation index and pulse wave velocity provide much more accurate indices of vascular stiffness. Thus we will determine the relationship among urinary AGT, office and ambulatory blood pressure, augmentation index, pulse wave velocity, and the response to AT1 receptor blockage versus potassium sparing diuretic therapy.