Daniel Hsia, MD
Pennington Biomedical Research Center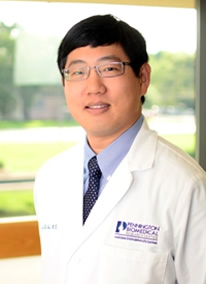 Dr. Daniel Hsia is a Louisiana native and a graduate of Jesuit High School in New Orleans. In 2004 he completed the 6 year Accelerated Biomedical Program at Rensselaer Polytechnic Institute in Troy, NY and Albany Medical College in Albany, NY. During this time he received his Bachelor of Science degree in Biology as well as his Doctor of Medicine. He went on to complete a combined Internal Medicine and Pediatrics residency at LSU Health Sciences Center in New Orleans in 2008 and served as a Chief Resident during his final year of training. He then moved to Baylor College of Medicine and Texas Children's Hospital where he completed a combined Adult and Pediatric Endocrinology fellowship in 2012. Dr. Hsia joined the faculty of Pennington Biomedical Research Center in August 2012 as an Assistant Professor in the Joint Diabetes, Endocrinology, and Metabolism Program with LSU Health Sciences Center. He is also an Adjunct faculty member at Our Lady of the Lake Children's Hospital in Baton Rouge.
Dr. Hsia is a member of the American Diabetes Association, Endocrine Society, and Pediatric Endocrine Society. He was inducted into the Alpha Omega Alpha Honor Medical Society in 2008. He was a recipient of a Marilyn Fishman Grant for Diabetes Research from the Endocrine Fellows Foundation in 2011 and was named a finalist for the Texas Children's Hospital Medical Staff Best and Most Complete Physician Fellow Excellence Award in 2012. He has presented his research at various local and national meetings.
One of the major drivers of Dr. Hsia's medical training has been to ensure continuity of care from infancy to adulthood. As a part of this perspective, his goal is to prevent the co-morbidities and complications in children that he has seen in his adult patients. Thus, his clinical interests are in the transitioning of adolescent and young adults with diabetes and other endocrinopathies to adult care. Moreover, Dr. Hsia's research interests have been in identifying and treating co-morbidities of obesity early on in childhood and studying treatments in the pediatric population that have shown efficacy in adults. He is currently involved in NIH funded multi-center clinic trials as well as industry sponsored clinical trials in the areas of diabetes and obesity.
His current LA CaTS project entitled "Metabolic Effects of Short Term Sugarcane Bagasse Supplementation" is a collaborative effort among faculty from Pennington, LSU main campus, and LSU AgCenter. Diets high in fiber have been shown to reduce the risk of type 2 diabetes and cardiovascular disease. However, the average American diet contains ~10 to 15 g of fiber per day and is well below the 20-35 g of fiber per day recommended by the Academy of Nutrition and Dietetics (formerly the American Dietetic Association). Studies have shown that obese adults and children have the lowest fiber intake. Therefore, there is a need to study methods of increasing dietary fiber intake as well as novel sources of dietary fiber. Sugarcane bagasse is the remaining fibrous material after sugarcane juice is extracted. Pre-clinical studies have shown attenuated weight gain, enhanced insulin sensitivity via HOMA-IR, lower ghrelin gene expression, and increased GLP-1 levels in mice fed a high fat diet plus sugarcane fiber compared to mice fed the same diet plus cellulose fiber. This double-blind placebo-controlled pilot study in obese, insulin-resistant adults aims to translate these results into humans. At baseline and after 4 weeks of study product consumption, glucose tolerance and insulin sensitivity will be assessed with a 3 hour oral glucose tolerance test, body composition will be assessed with dual energy X-ray absorptiometry (DXA), GLP-1 and ghrelin levels will be measured, and stool will be collected for possible future microbiota analysis. Weight and satiety via a visual analog scale (VAS) will be assessed weekly. The hypothesis is that subjects who consume food supplemented with sugarcane bagasse will have improved glucose tolerance and insulin sensitivity, less weight gain, increased satiety, higher GLP-1 levels, and lower ghrelin levels. These data may support future studies with this fiber in children and adolescents.