Amanda Staiano, PhD, MPP
Pennington Biomedical Research Center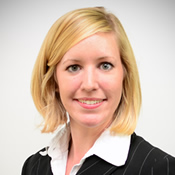 Dr. Amanda Staiano grew up in Baton Rouge, graduating from LSU's University Laboratory School in the state's first International Baccalaureate diploma class. She graduated magna cum laude with a bachelor of science in psychology at LSU. Dr. Staiano earned a PhD in developmental psychology and master of public policy at Georgetown University. In 2011, she returned to Baton Rouge to complete a 3-year T32 postdoctoral fellowship (#DK064584) in obesity and physical activity epidemiology under the mentorship of Dr. Peter Katzmarzyk at Pennington Biomedical. As the first LA CaTS Meritorious Scholar and now as a Roadmap Scholar, Dr. Staiano was promoted to Assistant Professor in 2014.
The goal of Dr. Staiano's Roadmap Scholar Award is to build the necessary training and pilot data to support and statistically power a competitive R01 application to manipulate sedentary behaviors in order to increase physical activity and reduce excessive weight gain. Her scholar project is to analyze data collected from the InSight study, which was a USDA-funded project conducted in 2008-2011 designed to understand the dietary, physiological, genetic and behavioral predictors of weight gain in a healthy, young, White and African American population. Using this richly phenotyped cohort, she is examining associations between sedentary behavior, specifically television viewing time, and eating attitudes/behavior in young adults, including dietary intake, disinhibition, and food cravings. She is also examining the temporal relationship between television viewing time and subsequent fat gain in young adults. This project has clinical implications in targeting both sedentary behavior and subsequent eating behaviors in order to prevent further weight gain among young adults.
In conjunction with her LA CaTS training, Dr. Staiano directs the Pediatric Obesity and Health Behavior Laboratory. The mission of the laboratory is to prevent and reduce obesity in children and adolescents through innovative, translational research, and scientific advocacy. She tests screen-based digital tools to promote physical activity, including exergames (i.e. video games that require gross motor activity) and telehealth counseling. Her current projects include:
the "GameSquad" study, a 6-month physical activity trial funded by the American Heart Association (15GRNT24480070) to test the efficacy of home-based exergame play with fitness coach videochats on children's physical activity levels and adiposity;
the "Pause & Play" study, a 2-year observational trial funded by NIMHD (#U54MD008602) to examine the effects of childcare center policies on preschool children's physical activity and screen-time;
and a prospective observational trial recently funded by the USDA to examine the effects of fat accumulation on adolescents' physical activity and sedentary behaviors, with the use of whole-body MRI, GPS trackers, accelerometry, and mobile phone-based ecological momentary assessment.
Dr. Staiano serves as councilor on the Pediatric Obesity Section of The Obesity Society, as an ad hoc reviewer for the NIH and American Heart Association, and on the Editorial Board of the journal Games for Health. She is delivering a TEDxLSU talk in March 2016 and was recently recognized as a Baton Rouge Business Report Forty Under 40 Honoree. For more information, please visit Dr. Staiano's website: http://labs.pbrc.edu/pediatric-obesity/index.htm