Tracking and Evaluation Core
---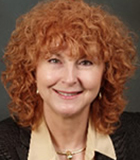 Sylvia Goldman, PhD
Core Director
Future Point Consulting
---
Contact this core
Email: tracking@lacats.org
---
About This Core
The Tracking and Evaluation (TE) Core is charged with developing and implementing strategies, processes and activities to collect useful data and provide meaningful evaluations at both the unique Key Component Activity (KCA)-level and overall Center-level.
To accomplish our task, we utilize a logic model, to outline activities and intended results; and, we employ participatory, utilization and outcomes based approaches. Some of our methods include: interviews, focus groups, surveys, program data analysis, scientific productivity analysis and social network analysis. We conduct environmental scanning, monitor each KCA and evaluate the LA CaTS Center s structure, services, activities, resource allocation, budget management, response to user needs, and user feedback. Since we are an IDeA-CTR comprised of 10 independent institutions spread over a wide geographic area, we utilize web-based tools, to assist in data collection, storage and analysis whenever possible. Our web-based tools include SPARC (Services, Pricing Application for Research Centers), REDCap, and a PubMed crawl.
Data and subsequent evaluations are used in a number of ways by the LA CaTS Center, including: enhancing recognized KCA or Center-wide strengths, identifying needs, new opportunities or challenges; and, making adjustments to budgetary and/or programmatic initiatives. Our objectives are to (1) provide the LA CaTS Center PI and the executive committee with actionable evaluations to facilitate data-driven decisions for shaping initiatives and directing resources to impact areas aligned with the Center s mission and theme; and, (2) provide our KCAs with evaluations that can be used for identifying strengths or needs, promoting continual improvement and enhancing their overall performance, e.g., KCA use by investigators or other identified stakeholders, use of professional development training resources, career advancements, scientific productivity or collaboration network.
Tracking and Evaluation Core Specific Aims:
Execute an internal tracking and evaluation plan that ensures ongoing monitoring and informative interim assessments at both the KCA-level and Center-wide level for both new and continuing initiatives.
Expand existing tools and continue to develop or implement innovative approaches for collecting and capturing data, tracking progress, enhancing collaborations, and providing analyses for identifying or enhancing organizational strengths.
Oversee an annual evaluation at the Center-level and KCA-level that includes assessing services structure and delivery; budget implementation; resource allocation; and, demand, function, utilization and effectiveness of each KCA to inform the PI and Co-PIs who will make course adjustments if necessary.
Center-wide Metrics or Progress Indicators:
The LA CaTS Center has four over-arching specific aims, which were developed to capture the overall goals of the KCAs. Our metrics and progress indicators are based on our External Advisory Committee recommendations, the direction of our funder the NIH-NIGMS and the needs of the state as identified by the LA CaTS Center to address health disparities and improve health outcomes. The progress objectives are summarized in the below graphic: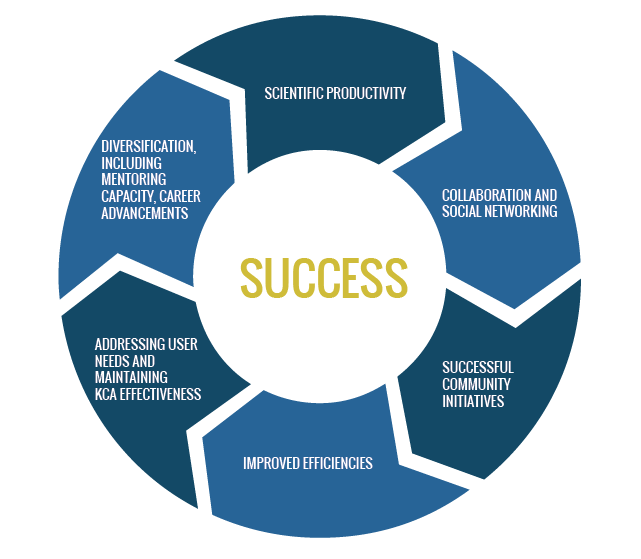 Data include manuscripts, publications, presentations, posters, grant submissions and awards, and intellectual property activity.
Collaboration and networking are necessary for moving from basic to translational to clinical research. We have established the process and tools allow us to capture volume and information about different types of collaborations - then visualize the networks, e.g., multi-disciplinary, multi-institutional, multi-site, mentor-mentee or MD/PhD study teams, or other types of cross-affiliated project teams.
Several of the KCAs have initiatives that will not be successful unless our communities are engaged. We work with the KCAs to track success.
KCA response to investigators is captured through our web-based tool called SPARC. The TE Core also works closely with the Administrative Core and Ethics and Regulatory Knowledge Core to track time from application submission to receiving IRB approvals and other applicable approvals.
Our goal is to establish and sustain the Center s ability to provide quality products and services through the performance of the KCAs.
Metrics include investigator characteristics (e.g., credential, rank, institutional and/or COBRE/INBRE affiliations, specialty or discipline, demographics), study characteristics (e.g., disease state, impact area, study type, research focus, type of collaboration -multi-disciplinary, multi-institutional, MD/PhD team, mentee/mentor team). Career promotions are also captured by the KCAs and reported to the TE Core. We administer an annual survey to investigators who have used LA CaTS Center resources to collect additional information including career promotions.