Research Summaries
By: Dr. Courtney Peterson and Dr. Eric Ravussin
A pilot study conducted at LSU s Pennington Biomedical Research Center shows that eating all your meals by midafternoon and fasting the rest of the day improves blood sugar control, blood pressure and oxidative stress, even when people don t change what they eat."Ours is the first study in humans that shows consuming all of your calories in a six-hour period provides metabolic advantages compared to eating the exact same amount over 12 hours or more, even if you don t lose weight," said study co-author Dr. Eric Ravussin, Pennington's associate executive director and director of the Nutrition Obesity Research Center. Our data also indicate that our feeding regimen has to be synchronized with the body s circadian rhythm and our biological clock. The research is important, Ravussin said, because it shows for the first time in humans that the benefits of intermittent fasting are not solely due to eating less. Practicing intermittent fasting has intrinsic benefits regardless of what you eat, he said. Also, the study shows that eating early in the day may be a particularly beneficial form of intermittent fasting.Dr. Courtney Peterson, primary investigator on the study, said she hopes the research also will raise awareness of the role of the body s internal biological clock called the circadian system in health. "If you eat late at night, it s bad for your metabolism," Peterson said. "Our bodies are optimized to do certain things at certain times of the day, and eating in sync with our circadian rhythms seems to improve our health in multiple ways. For instance, our body s ability to keep our blood sugar under control is better in the morning than it is in the afternoon and the evening, so it makes sense to eat most of our food in the morning and early afternoon."Previous studies showed intermittent fasting improves metabolism and health. However, researchers didn t know whether these effects are simply because people ate less and lost weight. In the Pennington study, eight men with prediabetes followed both the intermittent fasting diet and eating at typical American meal times for five weeks each. On the restricted schedule, the men each started breakfast between 6:30 a.m. and 8:30 a.m. and finished eating for the day six hours later. They then fasted for the rest of the day about 18 hours. Everyone finished dinner no later than 3 p.m. By contrast, on the typical American schedule, the men ate their meals spread across a 12-hour period. They ate the same foods on each schedule, and the researchers carefully monitored them to make sure that they ate at the correct times and only ate the food that the researchers gave them. The researchers found that the fasting diet improved insulin sensitivity, which reflects how quickly cells can take up blood sugar, and it also improved the ability of the men's pancreases to respond to rising blood sugar levels. The researchers also found that the blood pressure of the men was dramatically lowered, as well as their oxidative stress levels and their appetite levels in the evening. These findings, the researchers said, could lead to better ways to help prevent type 2 diabetes and hypertension. In light of these promising results, Peterson said more research is needed on intermittent fasting and meal timing to find out how they affect health and to figure out what types of approaches are doable for most people.About the Authors:Ravussin is a world-renowned expert in the conduct of translational research in obesity and type 2 diabetes. Over his more than 30-year career, he has conducted numerous clinical investigations on measures of energy expenditure, body composition, carbohydrate metabolism and biomarkers of aging in health and disease states.Peterson is an adjunct assistant professor at Pennington and an assistant professor at the University of Alabama at Birmingham. The study will be published in the journal, Cell Metabolism.
By: Dr. Stephanie Broyles, Pennington Biomedical Research Center
West Carroll Parish (county) is one of the poorest rural areas within the State of Louisiana. This Project used the Louisiana Clinical and Translational Science (LA CaTS) Center to boost the work of an existing academic-community partnership in this community. A Community Advisory Board (CAB) was formed to help guide the project. With this structure in place, we worked with the CAB to develop a community-based pilot project. A baseline health assessment of chronic disease risk factors and risk factor knowledge was conducted.The diagram below outlines the results, and a full report of the project can be found at www.pbrc.edu/healthywestcarroll.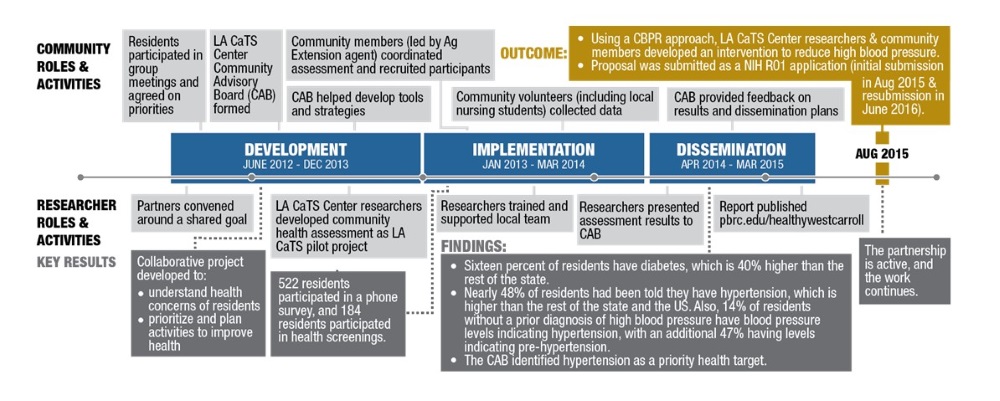 By: Dr. Betty M. Kennedy, Pennington Biomedical Research Center
This study looked at how well doctors and nurses understand their patients' health beliefs and values compared to patients' real beliefs. If doctors and nurses understood their patients' illness from their point of view, talking to patients may be easier.A total of 61 participants (7 doctors and nurses; 54 patients) completed the study. Doctors, nurses, and patients completed individual surveys, and each participated in a focus group discussion.Compared to doctors and nurses, patients perceived a greater meaning in their illness, and a greater desire for partnership with their doctors and nurses. Doctors and nurses indicated that education, trust, and culture were the most important factors in understanding their patients' beliefs and values about health. Education was seen as the most influential and easiest way to understand patients' health beliefs and values. At least one patient focus group was in agreement with this. Patients stated that two-way communication, all-inclusive treatment, and discipline were most important in understanding doctors' and nurses' health beliefs and values. Two-way communication was considered key in having the greatest influence and possibly the easiest way to understanding according to these patients.Conclusion: When patients and their doctors and nurses listen and talk with each other, they are likely to benefit from a shared understanding that may improve future decisions and the quality of care patients receive.Kennedy BM, Johnson WD, Rehman M, Magee MB, Leonard, R., Katzmarzyk PT. Healthcare Providers versus Patients Understanding of Health Beliefs and Values. PXJ. 2017;4(3):29-37.
By: Dr. Amanda Staiano, Pennington Biomedical Research Center
Little is known about what causes young adults to gain weight. We studied the relationships between anxiety and depression and weight gain in young men and women and looked at how physical activity may play a role.
In 2008, we enrolled 90 young adults in a 3 year study funded by the U.S. Department of Agriculture (USDA), to find out what contributes to weight gain in healthy young men and women over time.
The young adults in our study gained about 3 lbs. in 2 years. If they continue at this rate, they will be obese in 10-15 years. Men and women who had higher scores on anxiety and depression gained more weight. Interestingly, we did not find this relationship in women who were physically active.
In summary, we found that anxiety and depression are related to weight and fat gain in healthy young adults, but in women, physical activity may help against anxiety and depression leading to weight gain. It s important for us to continue studying young adults to understand what is leading them to gain weight so that we can create better weight gain prevention programs.
Authors: Betty M. Kennedy, PhD, Vijayendra Jaligam, MD, Beverly K. Conish, MPA, William D. Johnson, PhD, Brian Melancon, BA, Peter T. Katzmarzyk, PhD
October 19, 2015 - March 21, 2016
1. What is heart failure? Heart failure means a person s heart is not pumping as well as it should be. It does not mean the heart is no longer working. There is no cure, but there are medicines and life style changes that can help people lead a full life.
2. What is the experience of heart failure? People often feel tired and short of breath and some people have coughing. Everyday activities like cleaning, cooking, walking, or climbing stairs can become very difficult.
3. What was the purpose of the Caregivers Study? The purpose of the Study was to find out what roles patients and their family caregivers want in managing heart failure. Then compare these with what healthcare providers (cardiologists, nurses, and medical assistants) see as their roles.
4. How many patients, caregivers, and healthcare providers were in the study? 60 patients, 22 caregivers, and 11 healthcare providers. Patients and caregivers participated in individual interviews. Healthcare providers participated in focus groups.
5. What were the results of the study? Patients and caregivers said future interventions need to include education on details of heart failure that discuss how to: 1) improve the quality of their life, 2) cope with heart failure, and 3) anticipate the future and care they might need. Healthcare providers identified patients knowledge, following a treatment plan, and taking their medicine as instructed as the top 3 issues likely to make the most difference in management of heart failure. Providers also thought that education on the disease is the easiest way for patients and caregivers to manage heart failure.
6. What was the conclusion of the study? Patient and family-centered interventions focused on education of the family, the way the family functions and ongoing skills training would be useful for both heart failure patients and caregivers.
Questions or comments contact: Dr. Betty M. Kennedy, PhD (225) 763-2809 or via email: Betty.Kennedy@pbrc.edu
LSU Health Science Center-Shreveport, Louisiana
Elizabeth Disbrow, PhD was Principal Investigator with Connie Arnold and Terry Davis as co-PIs on an LSUHSC-S Grant in Aid study entitled "Disparities in Care and Care-Seeking for Alzheimer's and Parkinson's Disease: Pilot Project". The purpose was to examine racial differences in knowledge base and health care literacy for care seeking for age related neurodegenerative disease. The study found that participants had received limited information about AD, caregiver resources and research participation and general knowledge of AD was minimal. We recently submitted the results to Journal of Applied Gerontology in an article entitled "Alzheimer Disease and Resources: Perspectives of Low-Income and African American Family Caregivers."
Connie Arnold PhD , Terry Davis PhD
Completed Studies 2018-2019
1. Connie Arnold was Principal Investigator and Terry Davis was co PI on an American Cancer Society grant, Health Literacy Interventions to Overcome Disparities in CRC Screening. The purpose was to compare the effectiveness of two distinct telephone follow-up strategies to promote colorectal cancer screening with low income, underinsured patients in rural federally qualified health centers. The study found providing FIT + literacy appropriate education at regularly scheduled clinic visits with follow-up call (if needed) increased CRC screening rates of low income, rural patients to 68%. Sustaining annual screening with FIT was challenging, in years 2 & 3 less than 40% completed FIT. Follow-up calls were essential in year 2 & year 3. Lower cost automated call is just as effective as personal call in all 3 years.
Arnold CL, Rademaker A, Morris J, Wiltz G, Ferguson LA, Davis TC. Follow-up Approaches to a Health Literacy Intervention to Increase Colorectal Cancer Screening in Rural Community Clinics: A Randomized Control Trial. Cancer. Accepted for publication April 4, 2019.
Davis TC, Morris J, Rademaker A, Ferguson LA, Arnold CL. Barriers and facilitators to colorectal cancer screening among rural women in community clinics by heath literacy. J Women's Health, Issues Care 2017; 6:6. doi:10.4172/2325-9795.1000292
2. Terry Davis and Connie Arnold were Co-PIs on a Feist Weiller pilot grant, Biobanking, Genomic Research: Medicine's Brave New World: Understanding and Acceptance of Safety-Net Patients, Primary Care Providers and Minority Groups. The purpose was to identify awareness, understanding, trust, acceptance and access to clinical trials and biobanking among minority and rural adults and elicit input in constructing clear, culturally appropriate messages and recruitment strategies. Almost all participants were interested in research but not aware of studies or how to find out about them or enroll. Most are willing to participate but are never asked. Participants were most interested in studies on disease they or their family had. Most said they would enroll in genomic studies even if there was no benefit to them. Some were concerned with privacy and trust- who will see information and if it would be a barrier to jobs, insurance, immigration, etc. Few had looked for clinical trials on internet or social media.
Davis, TC, Arnold CL, Mills G, Miele L; A Qualitative Study Exploring Barriers and Facilitators of Enrolling Underrepresented Populations in Clinical Trials and Biobanking. Front. Cell Dev. Biol. 2019; 7:74. doi: 10.3389/fcell.2019.00074
3. Terry Davis served as a co-investigator on Project ACHIEVE, a PCORI grant to identify which transitional care services and outcomes matter most to patients and family caregivers, evaluate the comparative effectiveness of ongoing multi-component efforts at improving care transitions, and develop recommendations on best practices for the design, implementation and large-scale national spread of highly effective, patient-centered care transition programs. Terry and Connie conducted focus groups of rural and low income community clinics with Medicare patients recently discharged from the hospital their family caregivers. Patients and caregivers said that clear accountability (who do I call? Who is in charge of my care?), feeling cared for and cared about by their providers, and knowing what to expect and being prepared for potential problems at home, to be shown what to do and be given tools to care for themselves were what they wanted most when they left the hospital. .
Mitchell SE, Laurens V, Weigel GM, Hirschman KB, Scott AM, Nguyen HQ, Martin HJ, Laird L, Levine C, Davis TC, Gass B, Shaid E, Li J, Williams MV, Jack B W. Experiencing care transitions from the patient and caregiver perspective. Ann Fam Med. 2018;16(3)/226-231.