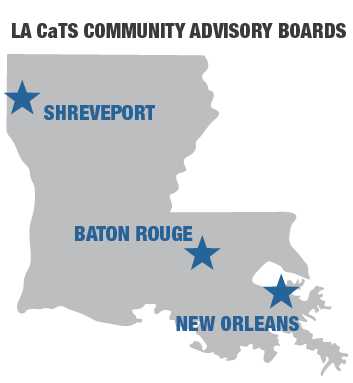 LA CaTS Center Mission & the Vision of Community Engagement & Outreach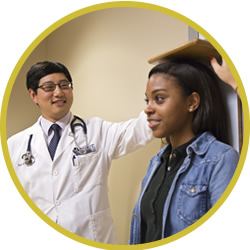 The vision of the Louisiana Clinical & Translational Science (LA CaTS) Center's Community Engagement and Outreach Resource (CEOR) is to enhance clinical and translational research efforts to address chronic disease burden and reduce disparities by facilitating meaningful community involvement in LA CaTS research at all stages.
Our work includes involving the community in identifying areas of research focus and in developing research projects, working with investigators to initiate and implement research trials using approaches that are acceptable to the community, and enhancing recruitment to the trials.
The CEOR's vision is central to the mission of the LA CaTS Center, which is to "encourage, support, and expand clinical and translational research through partnerships both among researchers and with the people we serve".
Featured Community Advisory Board Member
Walter "Geno" McLaughlin, Jr.
Mr. McLaughlin, Jr. is Director of Community Engagement for the East Baton Rouge Redevelopment Authority where he utilizes his extensive background in outreach and organizing to build coalitions to affect communities suffering from blight and disinvestment. In addition, he is Principal Strategist at Abstract Concepts, LLC. (Community Outreach, Project Management, & Consulting Firm).
He is the founder of Starving Artist (an arts based professional mentorship & empowerment initiative), curator of Black Restaurant Week Baton Rouge, Cofounder of Thin Redline Project (an online photojournalism platform), member of the Baton Rouge Multicultural Advisory Council for the Department of Justice, on the board of the Butterfly Society & Humanities Amped program, and Co-Chair of Arts & Culture for Mayor Sharon Weston Broome.
Additionally, he serves as a mentor and resource for several different youth groups including LA Youth Connect, Baton Rouge Youth Coalition, and Kappa League Guide Right Program. It is his willingness to step out in recent times that have seen him recognized as an effective advocate and influencer for change in the region. He has managed to balance efforts to mobilize and organize concerned citizens while working to change policy and build influence in the political realm. At the heart of it all, he remains the same. A man who hopes his work and his passion for people will leave an indelible mark on communities in which he serves.