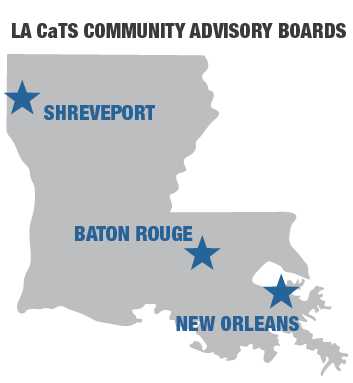 LA CaTS Center Mission & the Vision of Community Engagement & Outreach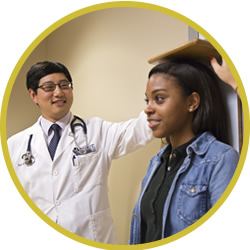 The vision of the Louisiana Clinical & Translational Science (LA CaTS) Center's Community Engagement and Outreach Resource (CEOR) is to enhance clinical and translational research efforts to address chronic disease burden and reduce disparities by facilitating meaningful community involvement in LA CaTS research at all stages.
Our work includes involving the community in identifying areas of research focus and in developing research projects, working with investigators to initiate and implement research trials using approaches that are acceptable to the community, and enhancing recruitment to the trials.
The CEOR's vision is central to the mission of the LA CaTS Center, which is to "encourage, support, and expand clinical and translational research through partnerships both among researchers and with the people we serve".
Featured Community Advisory Board Member
Tynesia Fields, MPA, CEOR Coordinator
Tynesia Fields, MPA is a native of Brooklyn, New York. She has however, spent the beginning of her adult life in Providence, Rhode Island, earning her Bachelor's degree in Urban Studies and her Masters of Public Affairs/Policy degree at Brown University. She currently serves as the Community Engagement and Outreach Resource (CEOR) Coordinator for the LA CaTS Community Engagement and Outreach Resource Core as well as the Center for Minority Health and Health Disparities Research and Education, based at Xavier University of Louisiana's College of Pharmacy. Prior to moving to Louisiana, she visited New Orleans for a trip dedicated to community service and continued on to fill the role as a Program Coordinator and Facilitator for a justice focused, faith-based non-profit organization (NGO) in the St. Claude neighborhood of the city. Her passion for developing and implementing sustainable social health change mechanisms that empower community capacity building, and her faith in God, propelled her to return to New Orleans to continue this work.
Her focus is policy and program development, and evaluation, as well as community building and engagement. Prior to becoming the Community Engagement and Outreach Coordinator, she was a Research Lead for the MIT Community Innovators Lab in New York City, leading research teams in community-based participatory research training and implementation to identify disparities at the root of avoidable hospitalization rates in her hometown. While at Brown, Ms. Fields committed to uplift Black and Latino communities through her work at various NGOs serving surrounding neighborhoods. During this time, she implemented key engagement programming and intentional community dialogue regarding food quality and accessibility, criminal justice, the built environment, among other health disparities within the local context. She is equipped with policy and program evaluation training as demonstrated in her service as a Policy Consultant for the National Law Center on Homelessness and Poverty in Washington, D.C. Ms. Fields hopes to continue using these skills and igniting her passion in her LA CaTS position, by strengthening community capacity to engage with and conduct health research that will accurately capture the nuanced sources of chronic disease burden, thus influencing effective health innovations for disproportionately impacted populations and ultimately improving health equity for residents across Louisiana.