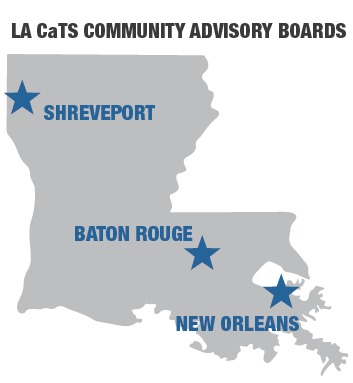 LA CaTS Center & Mission the Vision of Community Engagement & Outreach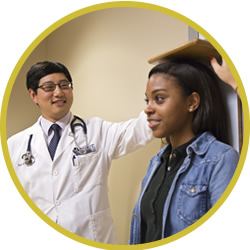 The vision of the Louisiana Clinical Translational Science (LA CaTS) Center's Community Engagement and Outreach Core (CEO Core) is to enhance clinical and translational research efforts to address chronic disease burden and reduce disparities by facilitating meaningful community involvement in LA CaTS research at all stages.
Our work includes involving the community in identifying areas of research focus and in developing research projects, working with investigators to initiate and implement research trials using approaches that are acceptable to the community, and enhancing recruitment to the trials.
The CEO Core's vision is central to the mission of the LA CaTS Center, which is to encourage, support, and expand clinical and translational research through partnerships both among researchers and with the people we serve .
Featured Community Advisory Board Member
Dana Vidrine, MSN, RNC-MNN
Dana Vidrine began her nursing career in 1980 and received her MSN degree in Nursing Leadership and Management in 2017. She is a nursing director at Woman's Hospital, the 17th largest delivery service in the nation and the largest in Louisiana. She is responsible for the fiscal oversight and management/supervision of an 84-bed Mother/Baby unit, well-baby and transitional care nurseries, lactation department, and newborn photography service MOM365.
Ms. Vidrine leads several health care initiatives to improve perinatal and neonatal outcomes. Throughout her career, she has led several patient rights and cultural diversity initiatives including care of the incarcerated obstetrical patient. Most recently, Ms. Vidrine implemented in-house breastfeeding peer counselor, telehealth breastfeeding consults, and proactive telephone call backs. In addition, led a multidisciplinary team to achieve the global designation of Baby-Friendly© by Baby-Friendly USA, Inc. (BFUSA), the accrediting body and national authority in the United States.
Ms. Vidrine is a member of the national association of her primary profession, Association of Women's Health, Obstetrics, and Neonatal Nursing; American Nurses Association; Louisiana State Nurses Association; and Baton Rouge District Nurses Association. She is certified as a maternal newborn nurse through National Certification Corporation (NCC).
Ms. Vidrine has been active in several volunteer opportunities including the ALS association and St. Vincent DePaul Men's shelter. Ms. Vidrine serves as Secretary of the LA CaTS Baton Rouge Community Advisory Board.