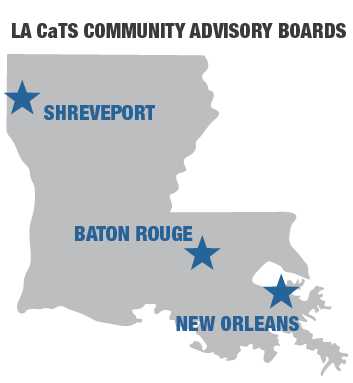 LA CaTS Center Mission & the Vision of Community Engagement & Outreach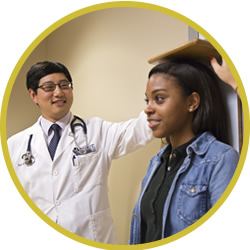 The vision of the Louisiana Clinical & Translational Science (LA CaTS) Center's Community Engagement and Outreach Resource (CEOR) is to enhance clinical and translational research efforts to address chronic disease burden and reduce disparities by facilitating meaningful community involvement in LA CaTS research at all stages.
Our work includes involving the community in identifying areas of research focus and in developing research projects, working with investigators to initiate and implement research trials using approaches that are acceptable to the community, and enhancing recruitment to the trials.
The CEOR's vision is central to the mission of the LA CaTS Center, which is to "encourage, support, and expand clinical and translational research through partnerships both among researchers and with the people we serve".
Featured Community Advisory Board Member
Dr. Twanda Laurant-Lewis, PsyD
Dr. Lewis is the incoming Community Co-Chair for the LA CaTS Community Advisory Board (CAB). She has been an active member of the CAB for the past 3 Years. Dr. Lewis is a recognized leader with a track record of results that are strategic and impactful to communities, stakeholders, private, non-profit and governmental organizations. She is committed to service, while utilizing an equity lens to assist in the development and implementation of community plans that support the growth of resilient communities and include addressing the needs of vulnerable populations.
In 2013, Dr. Lewis became President and CEO of Laurant-Lewis Consultancy LLC, a consultant firm that is is committed to utilizing best practices and a collective impact framework to work with communities, organizations, stakeholders and investors to assist them in delivering results and improving the quality of their outcomes. Throughout her professional career, she has worked in the area of human services, project/program management, grantmaking and organizational capacity building, locally and internationally. Utilizing her capacity building skills, Dr. Lewis has engaged diverse groups of local, state and regional organizations and advised them on developing sustainable programs that are beneficial and impactful, as well as, facilitated the development of strategic partnerships and collaboratives. Most notably, she has worked with organizations in Africa and Europe to address the mental health and medical needs of individuals that had limited access to proper care.
In addition to the CAB, Dr. Lewis also serves on several other boards and advisory councils. As a member of the Capital Region Behavioral Health Collaborative and Louisiana Prisoner Reentry Initiative steering team(s), she actively participated in the development of community plans to address both the Opioid epidemic and the needs of our returning citizens. Dr. Lewis also serves on the Truth Racial Healing and Transformation (TRHT) Baton Rouge Advisory Committee. TRHT is a comprehensive, national and community-based process to plan for and bring about transformational and sustainable change and to address the historic and contemporary effects of racism. Dr. Lewis enjoys being civically engaged in her Mid City neighborhood. She is board president of Mid City Gras, Inc., a nonprofit organization that aims to enrich the heart of Baton Rouge by hosting events to benefit neighborhood charities and bring the community closer together, culminating each year in an inclusive celebration of the Mardi Gras season.
Dr. Lewis earned her undergraduate degree in Sociology and graduate degree in Behavioral Studies from Southern University. In 2017, she earned a Masters and Doctorate Degree in Theology and Biblical Psychology. She is a licensed Christian Counselor.