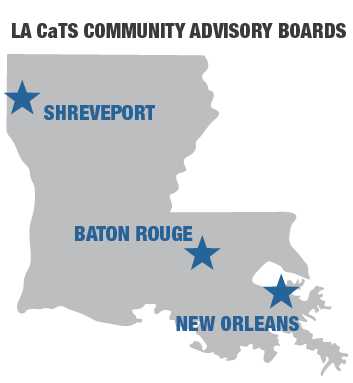 LA CaTS Center Mission & the Vision of Community Engagement & Outreach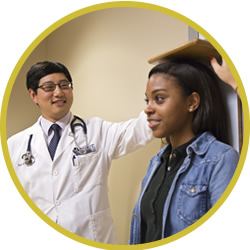 The vision of the Louisiana Clinical & Translational Science (LA CaTS) Center's Community Engagement and Outreach Resource (CEOR) is to enhance clinical and translational research efforts to address chronic disease burden and reduce disparities by facilitating meaningful community involvement in LA CaTS research at all stages.
Our work includes involving the community in identifying areas of research focus and in developing research projects, working with investigators to initiate and implement research trials using approaches that are acceptable to the community, and enhancing recruitment to the trials.
The CEOR's vision is central to the mission of the LA CaTS Center, which is to "encourage, support, and expand clinical and translational research through partnerships both among researchers and with the people we serve".
Featured Community Advisory Board Member
Torrie Harris, Dr.P.H. MPH
Torrie Harris, DrP.H. MPH, is one of the longest standing LA CaTS New Orleans Community Advisory Board (NOLA CAB) members. She has been committed to the NOLA CAB for five years, since its inception, and is a former Board Chair. Dr. Harris serves as the Health & Equity Strategist for the New Orleans City Health Department. She is a public health professional with over 20 years of experience in health disparities research and practice. A Xavier alumna, Dr. Harris notes the value of the New Orleans CAB in influencing clinical research, and Xavier University in playing a role through the Community Engagement and Outreach Resource (CEOR). Serving on the LA CaTS CAB enables her to remain attuned to what's going on in the health equity sphere within the field of research. Dr. Harris has dedicated her career to health equity through health system quality improvement by providing technical assistance to community health centers and other health service organizations. Previously, she served as the Director of Health Equity for the state of Kentucky where she led the state in conducting the first cultural and linguistic competency assessments of all local health departments. She has also developed the Louisiana Statewide Healthy Communities Coalition with a focus on grass roots community health initiatives to close gaps in health disparities related to obesity, smoking, and physical activity.
Dr. Harris hopes that the LA CaTS CABs and the CEOR will continue to grow in effectively demonstrating the importance of community voice in clinical research, and to develop as an even stronger focus of LA CaTS. We honor Dr. Harris as a highly committed member of the LA CaTS New Orleans CAB, and as an active leader in the City of New Orleans through her health equity policy innovation and advancement for the improved quality of life of New Orleans residents.