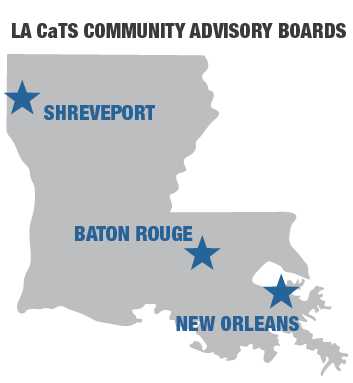 LA CaTS Center Mission & the Vision of Community Engagement & Outreach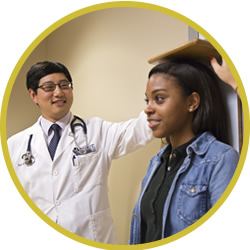 The vision of the Louisiana Clinical & Translational Science (LA CaTS) Center's Community Engagement and Outreach Resource (CEOR) is to enhance clinical and translational research efforts to address chronic disease burden and reduce disparities by facilitating meaningful community involvement in LA CaTS research at all stages.
Our work includes involving the community in identifying areas of research focus and in developing research projects, working with investigators to initiate and implement research trials using approaches that are acceptable to the community, and enhancing recruitment to the trials.
The CEOR's vision is central to the mission of the LA CaTS Center, which is to "encourage, support, and expand clinical and translational research through partnerships both among researchers and with the people we serve".
Featured Community Advisory Board Member
Catherine Gray Haywood
Catherine Gray Haywood is a native New Orleanian, who has dedicated her career to uplifting communities most impacted by health disparities through advocacy, service and education. She is the current New Orleans Community Advisory Board (CAB) Chair, and among the longest standing CAB members, dedicating her time, efforts, talents and insights to LA CaTS since the inception of this group. Ms. Haywood serves as the Chair of the Louisiana Community Health Outreach Network, an association for community health and outreach workers that supports and advocates for the improvement of community health statewide. Formerly the Community Service Program Manager for Tulane's Prevention Research Center for 20 years, she has worked for the last 30 years advocating for individuals living below the poverty level, and educating communities around health disparities such as HIV/AIDS, breast and cervical cancers, obesity and active living. This includes training programs for community residents, barbers, stylists, and health care providers, and education on community-based participatory research for organizations and neighborhood associations. Furthermore, she is one of the founding members of Women with a Vision, a non-profit organization in existence for the past 30 years, with a mission to improve the health and well-being of marginalized women, their families and communities.
Ms. Haywood has been involved in LA CaTS since the beginning because of her commitment to service. She remains committed to the functions and responsibilities of the CAB despite challenges and difficulties over the years, because she acknowledges the extreme importance of the LA CaTS CEOR mission and most importantly, she states, "it's about community!" Ms. Haywood envisions even more populations being represented in the CAB with the opportunity to provide their input on LA CaTS research, population targeted community engagement and recruitment strategies, etc. She advocates for more CBPR education and training for the academic and lay communities, to influence robust community-academic partnerships, as well as sustainable and true translational research. The LA CaTS CEOR honors Ms. Catherine Haywood for her service as a member and Chair of the New Orleans CAB, and for her steadfast commitment to improving the health of her local community throughout the years.