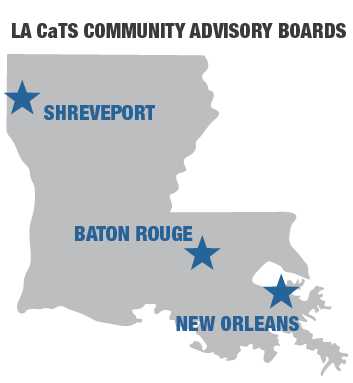 LA CaTS Center Mission & the Vision of Community Engagement & Outreach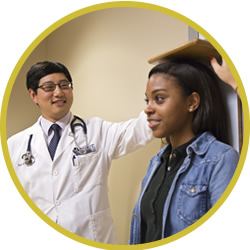 The vision of the Louisiana Clinical & Translational Science (LA CaTS) Center's Community Engagement and Outreach Resource (CEOR) is to enhance clinical and translational research efforts to address chronic disease burden and reduce disparities by facilitating meaningful community involvement in LA CaTS research at all stages.
Our work includes involving the community in identifying areas of research focus and in developing research projects, working with investigators to initiate and implement research trials using approaches that are acceptable to the community, and enhancing recruitment to the trials.
The CEOR's vision is central to the mission of the LA CaTS Center, which is to "encourage, support, and expand clinical and translational research through partnerships both among researchers and with the people we serve".
Featured Community Advisory Board Member
Jamie Milano Roques, BSN, WHNP-BC, MPA, MPH, APRN
Jamie is the past Community Chair of the LA CATs Community Advisory board. She has been an active member of the CAB since its inception in December 2013. Jamie is a public health leader and advocate in her community with over 38 years of practice and experience. She is retired from the Louisiana Dept of Health where she spent 27 years working as a Nurse Practitioner/Regional Administrator with the Office of Public Health and 8 years working as a Nurse Practitioner/Program Director with Capital Area Human Services.
Currently she is working for Open Health Care Clinic, a Federally Qualified Health Center (FQHC), and serves as their Director of Nursing. Her responsibility includes overseeing all nursing clinical services including a satellite clinic located at Capital Area Human Services (a SAMSHA grant funded project), the Title X program, the Screening and Brief Intervention and Referral to Treatment (SBIRT) Evidence-Based Model of Care, Medication-Assisted Treatment Program and providing leadership on Quality Improvement Projects related to Viral Load Suppression among Black African And Latino Women, Re-engagement into HIV Care, STI's and other infectious diseases.
In addition to the CAB, Jamie has served on several boards and advisory councils. She served on the Board of Directors of Family Road of Greater Baton Rouge and was elected board Chair for 2 terms. Currently she serves on the Executive Board of the Louisiana Public Health Association as the Affiliate Representative to the American Public Health Association's (APHA) Governing Council and at the national level; she serves as the Immediate Past President on the Council of Affiliates, a component of the American Public Health Association.
As a public health professional, Jamie has made numerous contributions throughout her career in the areas of grant writing, program development, implementation and evaluation, quality improvement initiatives, organizing collaborative community efforts and work force development. Her work has been presented at local, state and national conferences. She has received several professional awards and is an active member of the Rho Zeta Chapter of Sigma Theta Tau International Honor Society of Nursing. Jamie was selected as one of the Outstanding Nurses by the BR Chapter of the Louisiana State Nurses Association and in 2009; Jamie was a finalist for the Council of State Government Innovations Award
Today she continues her passion for public health through advocacy for and service to marginalized communities/populations. In her work towards the "Healthiest Nation in One Generation" Jamie endorses and works on the following PH priorities:
strengthening funding for public health agencies and programs
expanding access to the Affordable Care Act (ACA)
supporting efforts to address the health impacts of climate change promoting a comprehensive gun violence prevention program
maintaining PH regulations around child nutrition, reproductive and environmental health