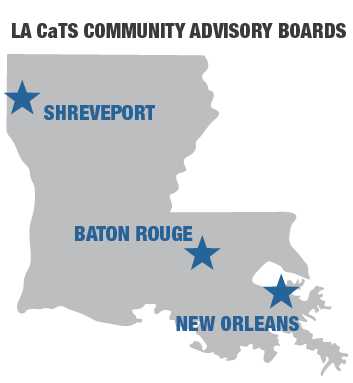 LA CaTS Center Mission & the Vision of Community Engagement & Outreach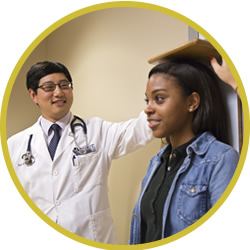 The vision of the Louisiana Clinical & Translational Science (LA CaTS) Center's Community Engagement and Outreach Resource (CEOR) is to enhance clinical and translational research efforts to address chronic disease burden and reduce disparities by facilitating meaningful community involvement in LA CaTS research at all stages.
Our work includes involving the community in identifying areas of research focus and in developing research projects, working with investigators to initiate and implement research trials using approaches that are acceptable to the community, and enhancing recruitment to the trials.
The CEOR's vision is central to the mission of the LA CaTS Center, which is to "encourage, support, and expand clinical and translational research through partnerships both among researchers and with the people we serve".
Featured Community Advisory Board Member
Dr. Daisy Slan, EdD
Dr. Daisy Slan was educated in the East Baton Rouge Public Schools. She attended Southern University A & M in Baton Rouge and earned a B.S. Degree in Child Development. She later certified in Education through a federal program called Teacher Corp and earned a Masters in Elementary Education. She also holds a Doctorate in Education Leadership from George Peabody College of Vanderbilt in Nashville, TN.
Dr. Slan has worked in Education for over 40 years. Her beginning was as an elementary teacher, both in a self-contained classroom and Title I reading pull-out program. After working several years as a classroom teacher, she was employed at the State level with the Louisiana Department of Education in a Special Program to Upgrade Reading and the Bureau of Personnel Evaluation at Louisiana State University in Research and Development, working on the Teacher Evaluation System.
She has worked in a school District's Central Office as Supervisor of Curriculum and Instruction and retired as Superintendent of Schools. After her retirement she worked with a National Non-Profit Organization, Rural Schools and Community Trust based in Washington, DC. Years later, she was asked and returned to a local school district as Superintendent of Schools for three years.
She is currently a facilitator with the East Baton Rouge School District's Instructional Leadership Program, where educators are selected through a rigorous process to become eligible for a school leadership position.
Her most cherished position is that of a mother, grandmother, and friend to education. Slan's goal is to make a difference in the lives of as many children, youths and adults as possible, so that they will be safe, healthy, and educated.