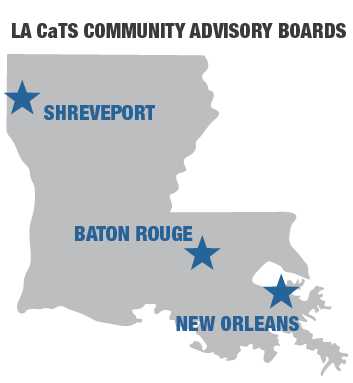 LA CaTS Center Mission & the Vision of Community Engagement & Outreach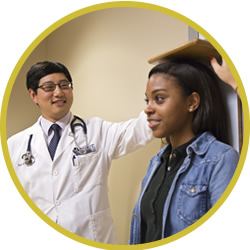 The vision of the Louisiana Clinical & Translational Science (LA CaTS) Center's Community Engagement and Outreach Resource (CEOR) is to enhance clinical and translational research efforts to address chronic disease burden and reduce disparities by facilitating meaningful community involvement in LA CaTS research at all stages.
Our work includes involving the community in identifying areas of research focus and in developing research projects, working with investigators to initiate and implement research trials using approaches that are acceptable to the community, and enhancing recruitment to the trials.
The CEOR's vision is central to the mission of the LA CaTS Center, which is to "encourage, support, and expand clinical and translational research through partnerships both among researchers and with the people we serve".
Featured Community Advisory Board Member
D'Andra Bradford Odom, MPA Minority Outreach Director
Southeast Louisiana Area Health Education Center
D'Andra Bradford Odom is the Minority Outreach Director for the Southeast Louisiana Health Education Center. She also serves as the liaison for the Louisiana Bureau of Minority Health Access. D'Andra has worked in public health for over eight years and has over ten years of public policy experience. Mrs. Odom's primary focus is in chronic disease, health disparities, and food access. Her research interests are in the areas of food tourism, childhood obesity, and minority health. She has a Bachelor of Science degree in Computer Information Systems from Grambling State University in Grambling, LA and a Master's in Public Administration with a concentration in Public Policy from Southern University and A&M College in Baton Rouge, LA. Mrs. Odom has a strong passion for policy and social justice and welcomes the opportunity to share her passion with others. When she is not working in public health and policy she enjoys spending time with her husband (Brandon) and children (Josiah and Corrinne), traveling, dining, reading, entertaining family and friends, and running the family catering business.