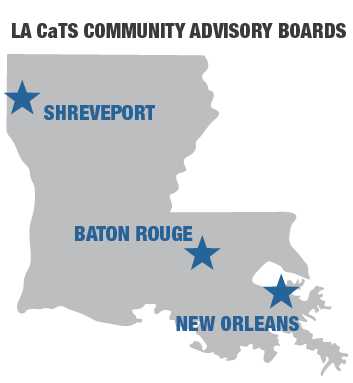 LA CaTS Center Mission & the Vision of Community Engagement & Outreach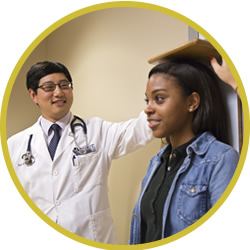 The vision of the Louisiana Clinical & Translational Science (LA CaTS) Center's Community Engagement and Outreach Resource (CEOR) is to enhance clinical and translational research efforts to address chronic disease burden and reduce disparities by facilitating meaningful community involvement in LA CaTS research at all stages.
Our work includes involving the community in identifying areas of research focus and in developing research projects, working with investigators to initiate and implement research trials using approaches that are acceptable to the community, and enhancing recruitment to the trials.
The CEOR's vision is central to the mission of the LA CaTS Center, which is to "encourage, support, and expand clinical and translational research through partnerships both among researchers and with the people we serve".
Featured Community Advisory Board Member
Daphne Ferdinand, PhD, RN
Dr. Ferdinand, Executive Director of the Healthy Heart Community Prevention Project (HHCPP), was one out of ten women honored at the American Heart Association's (AHA) 2019 New Orleans Go RED for Women Luncheon, for being an influential and effective local practitioner leading the fight against heart disease. AHA hosted this luncheon in celebration of the 15-year anniversary of Go RED for Women and the efforts in advocacy, research and community education programming regarding cardiovascular disease and stroke affecting women.
It is no surprise that our very own New Orleans CAB member received this honor - Dr. Ferdinand has over 30 years of advocacy for cardiovascular health with the provision of heart healthy educational programs in greater New Orleans, specifically in vulnerable communities. She is the co-founder of Heartbeats Life Center, formerly a cardiovascular diagnostic testing center and clinical cardiology consultation practice having served for 22 years as a practice administrator, clinical nurse specialist, and clinical trials coordinator. She also holds membership on other CABs such as the LSU Ag Center Extension in New Orleans and the Tulane University PRC.
As a backyard gardener for over 30 years and Master Gardener with the LSU Ag Center, she is poised to assist schools, community based organizations, and individuals with horticulture activities to promote the consumption of fresh fruits and vegetables. Put best by Dr. Ferdinand, she believes in "Helping People to Help Themselves."
Join us in celebrating Dr. Ferdinand for her impactful efforts to mitigate health disparities! We are honored to have her serve on our New Orleans CAB, and look forward to celebrating the many achievements she'll make in achieving health equity.