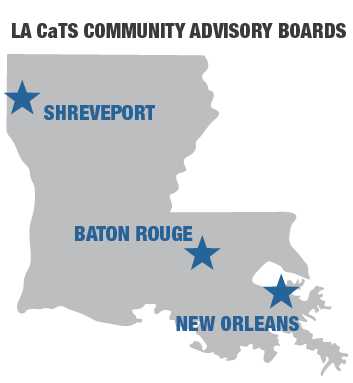 LA CaTS Center Mission & the Vision of Community Engagement & Outreach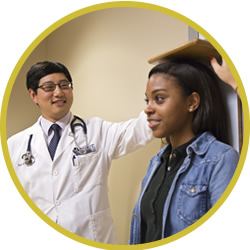 The vision of the Louisiana Clinical & Translational Science (LA CaTS) Center's Community Engagement and Outreach Resource (CEOR) is to enhance clinical and translational research efforts to address chronic disease burden and reduce disparities by facilitating meaningful community involvement in LA CaTS research at all stages.
Our work includes involving the community in identifying areas of research focus and in developing research projects, working with investigators to initiate and implement research trials using approaches that are acceptable to the community, and enhancing recruitment to the trials.
The CEOR's vision is central to the mission of the LA CaTS Center, which is to "encourage, support, and expand clinical and translational research through partnerships both among researchers and with the people we serve".
Featured Community Advisory Board Member
Dorian-Gray Alexander
Dorian-Gray Alexander is a member of the New Orleans Community Advisory Board (CAB), and has been serving on the board since its inception. Dorian has been living with HIV since 2006 and serves as a New Orleans HIV community advocate, educator, and leader. Currently, he is a Policy Fellow and member of CHANGE, a Coalition of HIV/AIDS Non-Profits and Governmental Entities, as well as an ad hoc staff Standardized Patient Trainer with Tulane University School of Medicine in its Training and Assessment of Professional Skills (TAPS) Program. Dorian received a B.A. in Philosophy from the University of New Orleans.
Dorian is consistent with engagement on numerous boards and committees serving the local HIV community, where he offers his expertise on treatment, linkage to care and retention in care for HIV. These include the Louisiana AIDS Advocacy Network, the Board of Trustees of Crescent Care, the Primary Medical Care Consumer Advisory Council for the NO/AIDS Task Force, the LSU New Orleans School of Medicine HIV Malignancy Program's Community Advisory Board, and the Board for a nonprofit journalism platform (Bayou Brief). He served on the New Orleans Regional AIDS Planning Council [2008-11] on several committees demonstrating his service to the local HIV community consistent with engagement and involvement in the local Ryan White (RW) planning body and other ASO's. Dorian networks with both RW and non-RW agencies, nonprofits and community-based organizations, in addition to governmental representatives on local, state, and national levels.
His mission as an HIV activist in the community is to provide platforms for those "who cannot or don't feel empowered to use their voice." In doing so, he is the radio host for "Proof Positive Show," a talk show with local guests on community station FM 102.3 We Honor Independent Voices (WHIV), raises awareness about HIV and other health conditions through programming dedicated to human rights and social justice. Dorian contributes greatly to the mission of the LA CaTS CEOR, by offering expert advising to LA CaTS investigators on community-based participatory research and community engagement principles from his personal experiences as a person living with HIV, his successful HIV/AIDS advocacy and education work, and his in-depth understanding of true community partnership more generally.
The New Orleans CAB is honored to have Dorian as a longstanding New Orleans CAB member, and remains grateful for the many years that he has dedicated his time and effort to improving not only LA CaTS research but also the health landscape of Louisiana.