Institutions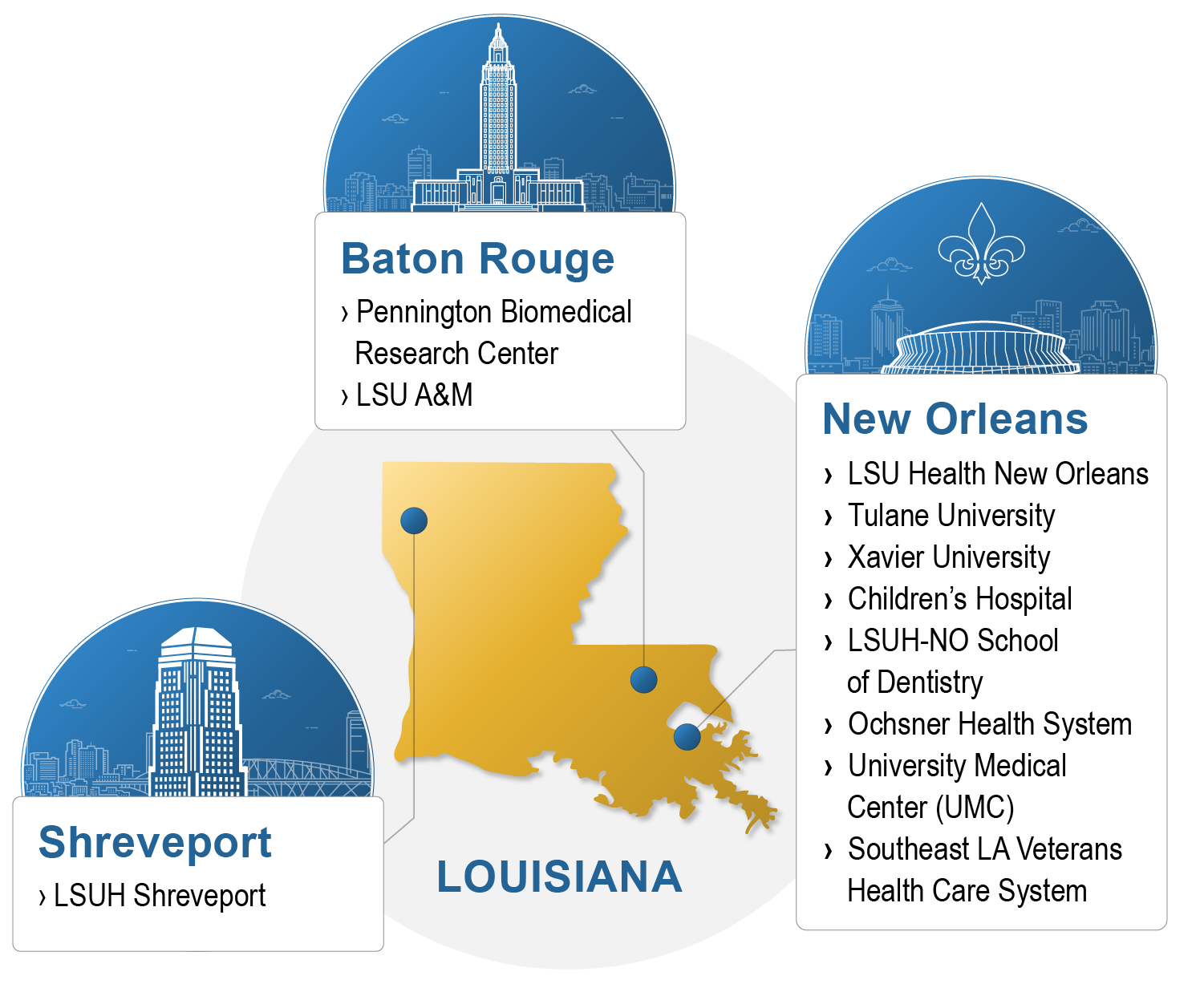 The lead institution for the LA CaTS Center is the Pennington Biomedical Research Center of the Louisiana State University (LSU) System, based in Baton Rouge, LA. In order to implement significant transformational change in our region, Pennington Biomedical has partnered with highly synergistic and integrative collaborative programs with Louisiana State University Health (LSUH-NO) and Tulane University, both in New Orleans.
In addition, the LA CaTS Center also includes a strong network of Research Partners which includes all the academic medical centers and large health providers in the state. The Research Partner network includes LSU Health-Shreveport, Xavier University of Louisiana, Children's Hospital New Orleans, Ochsner Health System, LSU School of Dentistry (under LSU Health-NO), University Medical Center (UMC), the New Orleans VA. The LA CaTS Center also has a strong alliance with South Carolina, another IDeA state, and shares resources and collaborates with the Clinical and Translational Science Award (CTSA) at the Medical University of South Carolina (MUSC).
Lead & Primary Institutions

Pennington Biomedical Research Center (Pennington Biomedical) serves as the lead institution for the LA CaTS Center. Pennington Biomedical is a research division and a stand-alone campus of Louisiana State University. Pennington Biomedical was established in 1982 by a $125 million gift from Louisiana philanthropist, C.B. Pennington and charged with a mission to promote healthier lives through research and education in nutrition and preventive medicine. Pennington Biomedical is led by Executive Director, John Kirwan, PhD, who is the Center Director of LA CaTS, demonstrating the priority status of this IDeA-CTR at the highest level of Pennington Biomedical. Pennington Biomedical facilities occupy over 750,000 SF and 11 buildings on a Baton Rouge campus of more than 230 acres. Pennington Biomedical has 75 faculty and 450 staff. Research is the sole mission of Pennington Biomedical. Pennington Biomedical's operating budget for FY 15/16 was $65M, derived from $20M federal research ($15.9M NIH; $4M DOD), $16M private/industry research, $2.5M state-sponsored research, $17.1M state appropriation, $2.4M auxiliary operations, and $7M from other sources.
Pennington Biomedical is well known as a model for clinical and translational (CT) research and its faculty and programs span basic, clinical and population-based research. Pennington Biomedical has an excellent CT research base, an excellent track record of postgraduate career development and a history of technology development advancing the CT research field. Thus, given the history of Pennington Biomedical and the role Dr. Kirwan plays as its Executive Director, CT efforts have been, and will remain, the major priorities. With the significant match provided by Pennington Biomedical, the LA CaTS Center is an integral aspect of our priorities.
Pennington Biomedical leads the following LA CaTS Center Key Component Activities: Administrative Core, Tracking & Evaluation, Biostatistics & Epidemiology Research Design Core, Ethics & Regulatory Knowledge Core Cyberinfrastructure Enhancement Core.

LSU Health New Orleans is Louisiana's flagship academic health center. Through its Schools of Medicine, Dentistry, Nursing, Allied Health Professions, Graduate Studies and Public Health, the Center educates the majority of Louisiana's health professionals 70% of Louisiana's physicians and 75% of Louisiana's dentists, as well as advanced practice nurses, physical, occupational, and speech therapists, public health professionals, and research scientists. The LSUH-NO supports the LA CaTS Center with unique strengths and programs. Core facilities include Proteomics, Immunology, Morphology, Imaging, Genomics, Microarray, Biomedical Informatics, Vaccine Technology/Vector Development, and Biospecimen Repository. LSUH-NO has a nationally recognized Center for Advanced Practice, a 10,000 SF virtual training environment for practicing and resident physicians, and a 20,000 SF Student Learning Center designed for small group teaching, simulation learning, and computerized instruction. Full accreditation from the LCME was received in 2009. LSUH-NO and the State of Louisiana recently opened a state-of-the-art 424-bed hospital, located near the LSUH-NO and Tulane Health Sciences Center (TUHSC) campuses and staffed by physicians from both institutions. The new facility and auxiliary clinics include inpatient and outpatient resources for clinical and translational research and houses LA CaTS research efforts in New Orleans.
LSUH-NO leads the LA CaTS Center Pilot Grants Program, Clinical Research Resources, and Biomedical Informatics Core.
LSU School of Dentistry
LSU School of Dentistry became a new resource to the LA CaTS Center in July 2017, as part of the Clinical Research Resources Key Component. Though already an official member of the Center under the LSUH-NO umbrella, the LSU School of Dentistry is providing clinical trial unit space and pilot grant support for clinical and translational research that is new asset to LA CaTS investigators.

Tulane University (TU) and the Tulane University Health Sciences Center (TUHSC) include Schools of Medicine, Public Health Tropical Medicine (SPHTM), and the Tulane National Primate Research Center (TNPRC), and brings unique assets to the LA CaTS Center (Table 3). Infectious diseases, vaccine development, cardiovascular disease, diabetes, cancer, health disparities and aging are major areas of research strength. Tulane's Medical School has the largest number of MD-MPH students in the United States, many with an interest in pursuing CT research careers. The 14,000 SF Tulane Center for Advanced Medical Simulation and Team Training (Sim Center) uses high-fidelity simulation equipment and modern education techniques to provide over 15,000 hours of skills-based and team training annually for healthcare professionals at all levels. The School of Medicine, offers an MS in Clinical Research (MS-CR). The MS-CR program is designed to prepare the next generation of CT researchers and to transform Louisiana into a destination for clinical research for both patients and the pharmaceutical industry. The MS-CR is a critical component of our LA CaTS Center Professional Development KCA's efforts to promote CT research as a professional and sustainable career option.
Research Partners

Xavier University of Louisiana, a Catholic and historically Black university, has a well defined history of promoting a more just and humane society and preparing its students for roles of leadership and service. Xavier University has, for the past ten years, ranked first in the nation among historically Black colleges and universities (HBCUs) in sending graduates on to medical school. Currently, Xavier leads the nation in the number of African American graduates in the physical and biological sciences, and 55% of Xavier's science graduates matriculate to professional or graduate school. Xavier is among the leaders in the nation in the number of African American Doctor of Pharmacy degrees conferred.
There is considerable research talent to draw from at Xavier in the College of Arts and Sciences and the College of Pharmacy. The Biology and Chemistry departments and the College of Pharmacy have an established record of support from NIH, NSF and the Departments of Defense (Army and Air Force) and Energy. Among 102 HBCUs, Xavier currently ranks 8th nationally in NSF funding, 6th in NIH funding and 22nd in NSF funding among the 426 Comprehensive IIA institutions. Xavier has been actively recruiting translational research faculty to grow this enterprise.
The university, through NIH endowment funding of $25.7M, has established the Center for Minority Health and Health Disparities Research and Education (CMHDRE). The CMHDRE, which was established in 2002, has the overall Specific Aim to provide the infrastructure that is required to conduct research and provide community education and clinical services aimed at health disparities. The award was used to establish the Xavier Pharmacy Endowment for Minority Health. A second award of $5 million was added to the endowment corpus on October 24, 2002.
Because of the expertise in community engagement, research and education in minority health and health disparities, Xavier's Dr. Kathleen Kennedy will lead the Community Engagement Resource for the Center.



LSU Health Shreveport consists of the Schools of Medicine, Graduate Studies and Allied Health Professions. The School of Medicine in Shreveport was founded just 44 years ago and its clinical and translational research base is modest but through strategic development of its research initiatives, it now is poised for growth. Anchoring the clinical enterprise is the 459 bed LSU Hospital in Shreveport, which treats about 20,000 inpatients and more than 450,000 outpatients every year. An indication of the potential for growth of clinical and translational research in Shreveport are recent bequests to Cardiovascular Disease Research ($40M) and Cancer Research ($60M), suggesting that expanding the research base at this site may be low hanging fruit for future years. There is a dynamic new Chancellor who, with his Vice Chancellor for Administration, is charting a strategic plan building on current strengths as an academic medical center to one of national profile with a substantial research portfolio in future years.
One of the strengths in clinical research at LSU Health in Shreveport is the NIH-funded health literacy research program under the direction of Terry Davis, PhD. Dr. Davis will bring this expertise to lead the LA CaTS Center Health Literacy Core.

Children s Hospital provides comprehensive pediatric healthcare which recognizes the special needs of children through excellence and continuous improvement of patient care, education, research, child advocacy and management. As the only pediatric hospital in Louisiana to incorporate two academic pediatric medical programs under one roof, Children s Hospital partners with LSU Health New Orleans and Tulane University School of Medicine to provide unparalleled opportunities for medical educational enhancement and innovation. Dr. Stuart Chalew, Professor and Pediatric Endocrinologist at Children's Hospital, leads the LA CaTS Center Pediatrics Clinical Trials Unit, part of Clinical Research Resources.


LSU A&M houses the INBRE (IDeA Network of Biomedical Research Excellence) which mentors junior faculty at undergraduate institutions around the state and a CoBRE (Center of Biomedical Research Excellence) in the School of Veterinary Medicine, mentoring junior faculty in infectious disease research. These two projects mentor 17 junior faculty for research careers. Other contributions are the opportunities for interaction with Engineering, Life Sciences, Veterinary Medicine and Mathematics. LSU AM is the home of the Center for Computational Technology (CCT), which has developed the Louisiana Optical Network Initiative (LONI), a fiber optics network that provides the backbone of the LA CaTS Center communications system. LONI has 85 teraflops of computational capacity, one of the nation's largest grid computing environments. The state has invested $40 M for the development and support of LONI.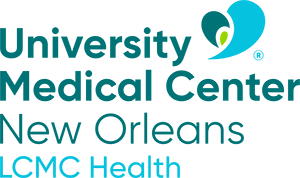 IDeA State Partner Institution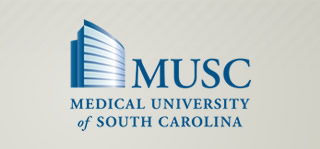 The LA CaTS Center has partnered with the state of South Carolina, specifically, the CTSA based at MUSC in Charleston, SC. The vision of South Carolina Clinical and Translational Research Institute (SCTR) is to improve health outcomes and quality of life for the population of SC through discoveries translated into evidence-based practice.
South Carolina shares similar health care issues with Louisiana, has similar socio-economic conditions, and that our institutions have a record of successful collaborative efforts. Like Louisiana, South Carolina is a largely rural state with a population of 4.6 million (68.9% White, 28.2% Black and 2.9% other minorities). The state has a high ratio of under-educated, under- or unemployed, and under- or uninsured individuals with critical healthcare needs. The United Health Foundation ranks South Carolina 41st of 50 states in overall health. SC has high age-adjusted death rates for diseases that are areas of significant health disparities regionally and nationally. Obesity is prevalent, as 65.4% of adults and 31.5% of high school students are overweight or obese. Nearly 48% of black rural children 10-17 years old are overweight or obese compared to 22.8% of white rural children. Significant health disparities impose a burden on individuals and communities within the state. Age adjusted death rates for cardiovascular disease, stroke, cancer, and diabetes mellitus are all higher than the national average. Overall the public health burden experienced by South Carolina residents parallels that of Louisiana, painting a picture of relative need and health care underservice compared to the nation as a whole.
LA CaTS actively seeks collaboration with counterparts in South Carolina. This genesis of the collaboration began in 2004 with collaboration on the Troop Readiness Improvement (TRIM) Study. TRIM is a study of the development of overweight in childhood and early adulthood funded by the DoD and administered by the South Carolina Research Authority (SCRA) and participant in the SC CTSA. Under principal investigator Dr. Russell Pate (Univ. of SC), this multi-center program has designed protocols and piloted data collections in anticipation of funding for a larger study in 2012. Pennington participation, headed by Dr. Harsha, includes protocol development, data analysis and publication, and overview of project direction. Pennington also acts as the medical laboratory facility for analysis of biospecimens.
Our continued collaboration as part of LA CaTS will be in the areas of Education, Health Literacy, Biomedical Informatics, and Community Engagement.