CLINICALTRIALS.GOV PAGE

Federal law and journal publication standards require that investigators register their clinical studies in a publicly accessible database. The ClinicalTrials.gov database is a tool to support compliance with these rules and regulations.
The FDA Amendments Act of 2007 (FDAAA) assigns this mandate to a Responsible Party and defines a set of Applicable Clinical Trials that must be registered. FDAAA stipulates that many prospective clinical trials involving drugs, biological products, and devices must be registered and a subset of these studies also must post results.
The International Committee of Medical Journal Editors (ICMJE) policy (adopted by over 1,000 journals, including JAMA and NEJM) is broader in scope than FDAAA. ICMJE policy requires study registration. The policy applies to research that prospectively assigns human subjects to intervention or comparison groups in order to look at the cause-and-effect relationship between an intervention and a heath outcome.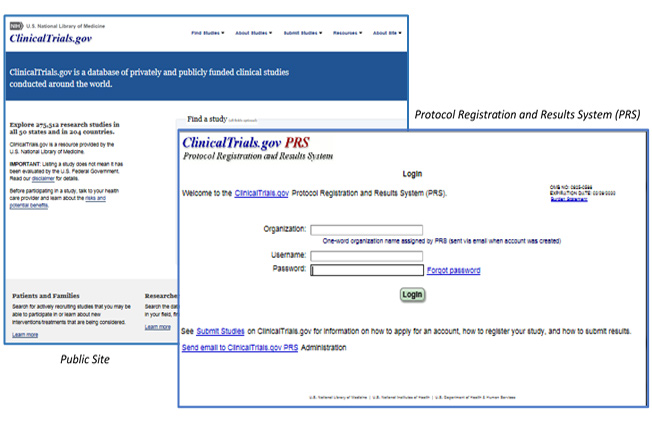 LA CaTS INSTITUTIONS PRS ADMINISTRATORS
| | |
| --- | --- |
| Institution | ClinicalTrials.gov PRS Administrator |
| Children's Hospital | Emily Moran, Director, Research Operations |
| LSU AM | Dennis Landin, PhD, IRB Chair |
| LSU Health New Orleans | Kadie Rome, IRB Coordinator |
| LSU Health Shreveport | John Maloy, JD, Assistant Vice Chancellor for Research Management |
| Ochsner Health System | Stephanie Henderson, Human Resource Research Protection Program Manager / IRB Administrator |
| Pennington Biomedical | Lori Steib, Director, Library Information Center |
| Tulane University | Brian Weimer, Director, University Research Compliance Office |
| Veterans Health Administration | Richard Mirabelli, MPH, Administrative Officer For Research |
| Xavier University New Orleans | |
| University Medical Center New Orleans | |
This work was conducted with support from Harvard Catalyst l The Harvard Clinical and Translational Science Center (National Center for Advancing Translational Sciences, National Institutes of Health Award UL 1TROO2541) and financial contributions from Harvard University and its affiliated academic healthcare centers. The content is solely the responsibility of the authors and does not necessarily represent the official views of Harvard Catalyst, Harvard University and its affiliated academic healthcare centers, or the National Institutes of Health.
Harvard Catalyst Clinical Trial Registration and Results Reporting
Please note by clicking on the links below, you will be leaving the LA CaTS website and going to Harvard Catalyst website.
RESOURCES
HELPFUL LINKS AND ADDITIONAL INFORMATION