News & Publications
Latest News
LA CaTS Center Welcomes Tynesia Fields, Community Engagement & Outreach Coordinator
Released: Tuesday, August 06, 2019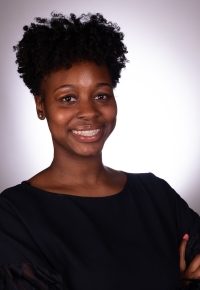 We proudly welcome Ms. Tynesia Fields to the LA CaTS Center family. Ms. Fields is filling the important role of the Community Engagement and Outreach Coordinator for the LA CaTS Community Engagement Outreach Resource (CEOR), and is housed at Xavier University in New Orleans.
Ms. Fields is a passionate advocate and change maker in the field of social health equity. Her previous work and in-depth training both focus on policy and program development, and evaluation, as well as community building and engagement. Prior to becoming the Community Engagement and Outreach Coordinator, she served as a Graduate Research Lead for the MIT Community Innovators Lab in New York City. She led research teams in community-based participatory research training and implementation to identify disparities at the root of avoidable hospitalization rates in her hometown of Brooklyn. She has implemented key engagement programming and intentional community dialogue regarding food quality and accessibility, criminal justice, and the built environment, among other health disparities within Providence, Rhode Island's local context. There she completed her undergraduate and graduate studies at Brown University. She also served as a Policy Consultant for the National Law Center on Homelessness and Poverty in Washington, D.C. Ms. Fields hopes to continue using these skills and igniting her passion in her LA CaTS position, by strengthening community capacity to engage with and conduct health research that will accurately capture the nuanced sources of chronic disease burden, thus influencing effective health innovations for disproportionately impacted populations and ultimately improving health equity for residents across Louisiana. Her dedication to Louisiana and the city of New Orleans began with a powerful visit dedicated to service in 2015, and this same commitment to serving communities continues to thrive in her work today.
To contact Ms. Fields or the Community Engagement and Outreach Resource (CEOR), please email Community@LACaTS.org or call (504) 520-5033.
###
About the Louisiana Clinical and Translational Science (LA CaTS) Center
The LA CaTS Center is comprised of three primary
collaborating institutions
in the state, including LSU's Pennington Biomedical Research Center in Baton Rouge, LSU Health Sciences Center in New Orleans, and Tulane University School of Medicine in New Orleans – and also includes six research partners: LSU Health Sciences Center in Shreveport, Louisiana State University in Baton Rouge, and in New Orleans, Xavier University of Louisiana, Children's Hospital, Ochsner Health System, Southeast Louisiana Veterans Health Care System, and University Medical Center. The LA CaTS Center's vision for Louisiana encompasses the strengths and capacities unique to each member institution and represents a unified, comprehensive approach for targeting prevention, care and research of chronic diseases in the underserved population. The scholar program is supported in part by U54 GM104940 from the National Institute of General Medical Sciences of the National Institutes of Health which funds the Louisiana Clinical and Translational Science Center. For more information, please visit
www.lacats.org.