News & Publications
Latest News
How to Engage the LA CaTS Community Advisory Boards in Your Research
Released: Thursday, July 13, 2017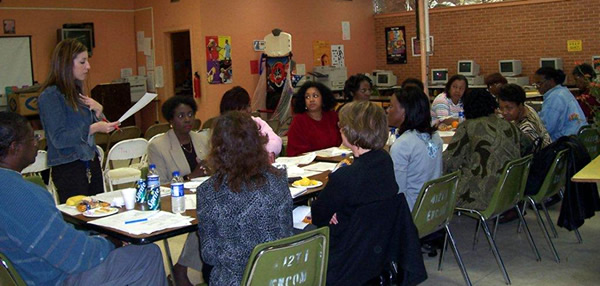 Community-Based Participatory Research (CBPR) is defined as "a collaborative process that equitably involves all partners in the research process and recognizes the unique strengths that each offers. CBPR begins with a research topic of importance to the community with the aim of combining knowledge and action for social change to improve community health and eliminate health disparities."1-5
Community Advisory Boards (CABs) & the LA CaTS Center
Comprised of community members and organizational representatives, the CAB work in collaboration with researchers to develop studies and implement interventions that directly address the health needs of underserved communities. Members of the CAB will provide guidance for health research that is consistently socially relevant and accessible.
Here is real world example of how the CABs can help:
An informal needs assessment and a series of brainstorming sessions was conducted within an established CAB, during which CAB members consistently agreed upon the importance of identifying the roles and needs of caregivers. Because the topic of caregivers is very broad, the focus was narrowed to caregivers of heart failure (HF) patients. In response, Dr. Betty M. Kennedy worked with interested CAB members to develop a preliminary study proposal titled, "Caregivers' Perceived Roles in Caring for Patients with Heart Failure: Implications for Healthcare Providers." The study began in October 2015 and ended March 2016. The purpose of the study was to determine what roles patients and caregivers perceive and desire for themselves in managing HF, and to compare and contrast these roles with those perceived by healthcare providers. A total of 93 (60 patients, 22 caregivers, and 11 healthcare providers) completed the study. The study found that interventions are needed among HF patient caregivers and should focus on education in family structures, family functioning and skills training in family assessment and engagement.
Who is eligible to use the services of the CABs and receive their valuable input? Investigators at any of the LA CaTS Center member institutions can use this resource! WE recommend starting involvement EARLY, in the protocol development or grant application stage if not before. Even if you have an idea on a potential project, you can take advantage of the CAB's input.
Where does an investigator start? You should start by scheduling a consultation with a member of our Community Engagement & Outreach Resource team. You can request this through the LA CaTS SPARC system (hyperlink: https://sparc.lacats.org). You can also contact us at community@lacats.org. For direct consultation in questions about the Baton Rouge CAB, contact Betty Kennedy, PhD at Betty.Kennedy@pbrc.edu; for questions about the New Orleans CAB, contact Amina Massey at amassey1@xula.edu.
References
Israel BA, Schulz AJ, Parker EA et al. Review of community-based research: Assessing partnership approaches to improve public health. Annu Rev Public Health. 1998;19:173-202.
Israel BA, Schulz AJ, Parker EA et al. Critical issues in developing and following community-based participatory research principles. In: Minkler M, Wallerstein Neds. Community-based participatory research for health. San Francisco, CA: Jossey-Bass, 2003.
Israel BA, Eng E, Schulz AJ et al. Introduction. In: Israel BA, Eng E, Schulz AJ, Parker EA eds. Methods in community-based participatory research for health. San Francisco, CA: Jossey-Bass, 2005.
Minkler M, Blackwell AG, Thompson M et al. Community-based participatory research: Implications for public health funding. Am J Public Health. 2003;93(8):1210-13.
Schulz AJ, Krieger JW, Galea S. Addressing social determinants of health: Community-based participatory approaches to research and practice. Health Educ Behav. 2002;29: 287-95.
###
About the Louisiana Clinical and Translational Science (LA CaTS) Center
The LA CaTS Center is comprised of three primary
collaborating institutions
in the state, including LSU's Pennington Biomedical Research Center in Baton Rouge, LSU Health Sciences Center in New Orleans, and Tulane University School of Medicine in New Orleans – and also includes six research partners: LSU Health Sciences Center in Shreveport, Louisiana State University in Baton Rouge, and in New Orleans, Xavier University of Louisiana, Children's Hospital, Ochsner Health System, Southeast Louisiana Veterans Health Care System, and University Medical Center. The LA CaTS Center's vision for Louisiana encompasses the strengths and capacities unique to each member institution and represents a unified, comprehensive approach for targeting prevention, care and research of chronic diseases in the underserved population. The scholar program is supported in part by U54 GM104940 from the National Institute of General Medical Sciences of the National Institutes of Health which funds the Louisiana Clinical and Translational Science Center. For more information, please visit
www.lacats.org.