News & Publications
Latest News
LSU Goes to Washington
Released: Monday, April 17, 2017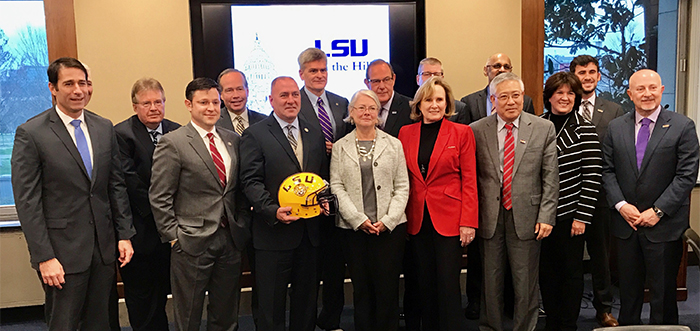 LSU President Dr. F. King Alexander and leaders from LSU campuses are in Washington, DC this week for LSU Day at the Capitol. They are meeting with members of the Louisiana congressional delegation.
Among the topics being discussed are the importance of the Higher Education Reauthorization Act, Medicaid expansion and NIH research funding.
The annual visit affords an opportunity to share information and concerns with Louisiana's federal elected officials, as well as provide data and resources that will help them better understand the value LSU campuses bring to the state and nation, as well as the issues affecting them.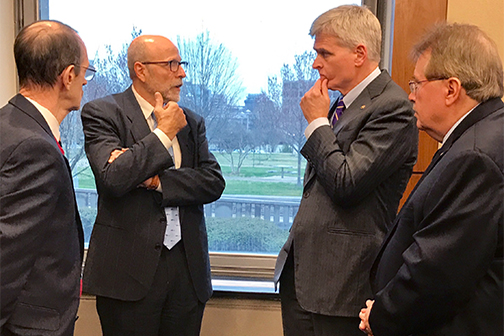 ###
About the Louisiana Clinical and Translational Science (LA CaTS) Center
The LA CaTS Center is comprised of three primary
collaborating institutions
in the state, including LSU's Pennington Biomedical Research Center in Baton Rouge, LSU Health Sciences Center in New Orleans, and Tulane University School of Medicine in New Orleans – and also includes six research partners: LSU Health Sciences Center in Shreveport, Louisiana State University in Baton Rouge, and in New Orleans, Xavier University of Louisiana, Children's Hospital, Ochsner Health System, Southeast Louisiana Veterans Health Care System, and University Medical Center. The LA CaTS Center's vision for Louisiana encompasses the strengths and capacities unique to each member institution and represents a unified, comprehensive approach for targeting prevention, care and research of chronic diseases in the underserved population. The scholar program is supported in part by U54 GM104940 from the National Institute of General Medical Sciences of the National Institutes of Health which funds the Louisiana Clinical and Translational Science Center. For more information, please visit
www.lacats.org.