News & Publications
Latest News
SPARC Live! Request a service now!
Released: Sunday, June 07, 2015
About SPARC Request
You can now request a LA CaTS service or consultation through our new online SPARC Request System (Services, Pricing, & Application for Research Centers). SPARC is a web-based research management system that provides a central portal (one-stop shop) to researchers and their study teams to browse for research services and resources, as well as submit service and pricing requests with a focus on billing compliance and proposal/budget development. SPARC was developed by the Medical University of South Carolina (MUSC), a collaborator with the LA CATS Center, and is now being utilized by multiple research institutes across the country.
Why use SPARC?
Manage your study information and requests in one central location
Easy-to-use search features
Request or obtain research pricing for research services across the LA CaTS Center institutions
Communicate directly with your service providers
How Do I Get Started?
To get started go to sparc.lacats.org and create your account! Browse our catalog or ask a question!
Where do I find SPARC? It is easily found on the LA CaTS website homepage. Look for the SPARC logo throughout our website!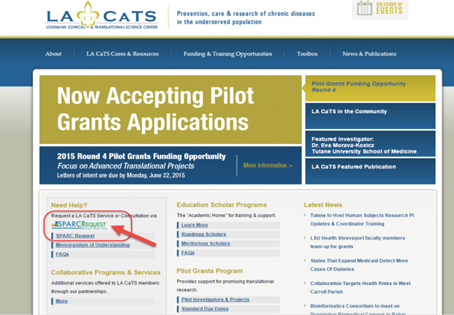 Have a quick question for one of our service providers? Use the "Ask A Question" feature.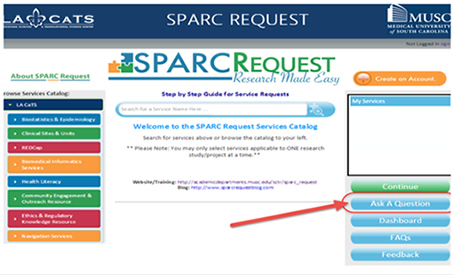 Questions about SPARC? Contact us at sparc.support@LACaTS.org.
###
About the Louisiana Clinical and Translational Science (LA CaTS) Center
The LA CaTS Center is comprised of three primary
collaborating institutions
in the state, including LSU's Pennington Biomedical Research Center in Baton Rouge, LSU Health Sciences Center in New Orleans, and Tulane University School of Medicine in New Orleans – and also includes six research partners: LSU Health Sciences Center in Shreveport, Louisiana State University in Baton Rouge, and in New Orleans, Xavier University of Louisiana, Children's Hospital, Ochsner Health System, Southeast Louisiana Veterans Health Care System, and University Medical Center. The LA CaTS Center's vision for Louisiana encompasses the strengths and capacities unique to each member institution and represents a unified, comprehensive approach for targeting prevention, care and research of chronic diseases in the underserved population. The scholar program is supported in part by U54 GM104940 from the National Institute of General Medical Sciences of the National Institutes of Health which funds the Louisiana Clinical and Translational Science Center. For more information, please visit
www.lacats.org.