News & Publications
Latest News
Pennington Biomedical Research Center Awarded Accreditation for Protecting Research Participants
Released: Tuesday, December 17, 2013
BATON ROUGE, LA - The human research protection program at Pennington Biomedical Research Center has been awarded accreditation by the Association for the Accreditation of Human Research Protection Programs (AAHRPP).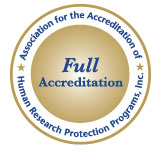 "We consider this the 'gold seal' of excellence, as this stringent accreditation gives assurances to research participants, researchers, sponsors, government regulators, and the general public that our Human Research Protection Program (HRPP) is focused first and foremost on utmost quality," said William Cefalu, M.D, Executive Director of the Pennington Biomedical Research Center. "At Pennington Biomedical, clinical trials are vital to our overall research efforts. We enroll approximately 2000 individuals annually in our studies. We average 30 new clinical trials each year, half of which last more than one year."
In 2012 Pennington Biomedical created an HRPP to demonstrate a commitment to research participants, as well as to ensure efficiency of operations and the high quality of the research the Center produces and oversees. This HRPP program includes most of the components of Pennington Biomedical that complete clinical trials in human subjects. The value of AAHRPP accreditation is the achievement of operating under high ethical standards to earn and sustain the trust and respect of the public, research participants and the research community. AAHRPP promotes high quality, ethically sound research through an accreditation process that helps organizations worldwide strengthen their human research protection programs (HRPPs).
An independent, non-profit accrediting body, AAHRPP uses a voluntary, peer-driven, educational model to ensure that HRPPs meet rigorous standards for quality and protection. To earn accreditation, organizations must provide tangible evidence through policies, procedures, and practices of their commitment to scientifically and ethically sound research and to continuous improvement.
###
About the Louisiana Clinical and Translational Science (LA CaTS) Center
The LA CaTS Center is comprised of three primary
collaborating institutions
in the state, including LSU's Pennington Biomedical Research Center in Baton Rouge, LSU Health Sciences Center in New Orleans, and Tulane University School of Medicine in New Orleans – and also includes six research partners: LSU Health Sciences Center in Shreveport, Louisiana State University in Baton Rouge, and in New Orleans, Xavier University of Louisiana, Children's Hospital, Ochsner Health System, Southeast Louisiana Veterans Health Care System, and University Medical Center. The LA CaTS Center's vision for Louisiana encompasses the strengths and capacities unique to each member institution and represents a unified, comprehensive approach for targeting prevention, care and research of chronic diseases in the underserved population. The scholar program is supported in part by U54 GM104940 from the National Institute of General Medical Sciences of the National Institutes of Health which funds the Louisiana Clinical and Translational Science Center. For more information, please visit
www.lacats.org.