The Louisiana Clinical and Translational Science (LA CaTS) Center is committed to advancing the diversity among the scientific workforce in Louisiana and the research and career development of all people. Despite tremendous advancements in scientific research, information, and education, research opportunities are not equally available to all. To ensure LA CaTS is providing equal access to training opportunities, the Professional Development Core announced a call for applications for the first Underrepresented Minority Roadmap Scholar (UMRS) Award in the late fall of 2022.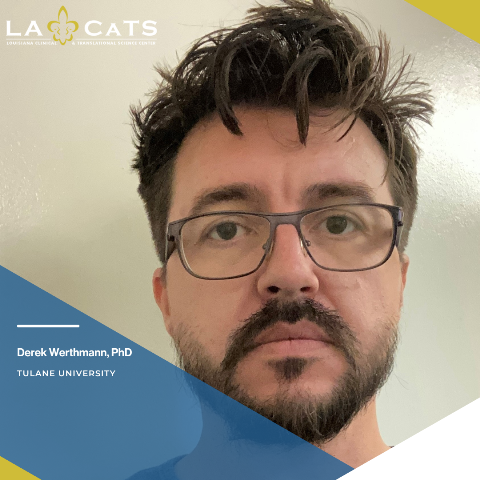 Applications were reviewed in the spring of 2023 through a peer review process, and the awardee was chosen in April. We are pleased to highlight our first awardee - Derek Werthmann, MPH, PhD, from the Tulane University School of Public Health and Tropical Medicine. Dr. Werthmann is Native American and a Research Assistant Professor in the Department of Epidemiology.
Dr. Werthmann's research interests are on the discovery of environmental exposures that contribute to or protect against illnesses, injuries, disabilities, and deaths; and identification of translatable public health actions to manage the associated risks. The proposed project he will work on as part of the Roadmap Scholar Program is titled "The Effect of Pesticide Exposure on Immunological Responses in Children against SARS-CoV-2".
The LA CaTS Roadmap Scholar Program supports 75% of the scholar's salary for 2 years to provide protected time for research and training. It also covers the cost of tuition for a Master of Science in Clinical Research (MRSC) degree from Tulane University, and funds to support the scholar's research and career development.
For those interested in applying, the next call for applications is planned for Fall 2023. We encourage you to schedule a consultation with the Professional Development Core's Research Navigator, Megan Bronson, MPH, to learn more about the program and eligibility. Ms. Bronson's contact is Mbronson@tulane.edu or make a request for a consultation on our SPARC Service Request System.