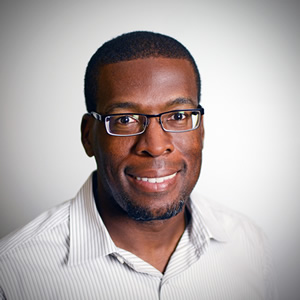 Research Labs Without Walls
The state-of-the-art labs and equipment at Pennington Biomedical are the envy of researchers from all over the world, but a significant amount of our science takes place outside of these labs in far less hi-tech locations all over Baton Rouge and Louisiana.
May is recognized as Older Americans Month, National High Blood Pressure Education Month and National Stroke Awareness Month, and is the ideal time to highlight the work of Associate Professor Robert L. Newton, Jr., PhD. As the head of the Physical Activity & Ethnic Minority Health Lab at Pennington Biomedical, he focuses on all three of these complex health issues.
More specifically, Dr. Newton focuses on lifestyle behaviors, because these behaviors are linked to an individual's risk for obesity, high blood pressure, stroke, and unhealthy aging.
The good news about lifestyle behaviors influencing so much of our health is that we get to exert some control.
"We can all make lifestyle changes. We can adhere to national guidelines for physical activity and dietary intake, make sure we are getting proper sleep, and reduce our sedentary time. All of these will reduce the risk for obesity, high blood pressure, stroke, and dementia" he said. "As individuals, we can have an even greater impact when we influence those around us. Encourage your family and friends to take up some of these healthy behaviors. If you buy groceries for your household, make sure you are bringing healthy options home."
Dr. Newton added that individuals can make an even larger impact when they join advocacy groups. "Anti-tobacco campaigns began as grassroots efforts to make a change. Today, you can't smoke inside a building," he noted.
Dr. Newton's work takes him outside the walls of Pennington Biomedical.
"My lab exists in the community," Dr. Newton explained. "We work with the community to develop mutually beneficial projects. Our work is done in YMCAs, churches, and neighborhoods. We also have a community information team that we go to for advice."
Dr. Newton and his colleagues investigate the effects of lifestyle changes on cognitive function and cardiovascular and metabolic diseases in African American adults, especially the impact increased physical activity can make on these conditions. Another ongoing study explores the effect of intranasal insulin spray on dietary intake and cognitive function in the African American population.
Dr. Newton said it is important to focus on the African American community for two reasons. First, African Americans experience health disparities, meaning they have a higher risk for Alzheimer's Disease, high blood pressure, stroke, and a number of other chronic diseases. Second, "African Americans are under-represented in research, and older African Americans even more so," he said.
Pennington Biomedical has made great strides in engaging the minority community in clinical trials and research studies. Enrollment of minority participants has increased from 19% to 35% over the last 30 years. Dr. Newton said he expects this percentage to increase as he and his colleagues continue to build trust within the African American community.
Dr. Newton's work also takes social determinants of health into consideration. "Lifestyle behaviors are often linked to social determinants of health. Individuals with low incomes might find themselves without reliable transportation to get to a doctor's office or live in neighborhoods too dangerous to walk and play outside. All of this puts an individual at greater risk for obesity, high blood pressure, and stroke, among many other chronic diseases," he said.
In order to make sure older African Americans can continue to feel safe when they participate in clinical trials at Pennington Biomedical, Dr. Newton and his colleagues are surveying comfort levels of participants in clinical trials during Covid. Survey results will help guide future protocols for clinical trials by understanding participants' preferences for joining a study, whether that might be fully remote, small groups with masking and social distancing, or one-on-one settings.
As a "thank you" to the community and in an effort to help African American seniors, Dr. Newton and his colleagues recently hosted the Senior Black American Health Fair at Pennington Biomedical. More than 200 seniors were provided with free physical and memory screenings, healthy meals, fitness classes, cooking demonstrations, music, and giveaways. If you would like to attend next year's event, be sure to check www.pbrc.edu/sbahf in the upcoming months for details. Our Lady of the Lake, Our Lady of the Lake Cancer Institute, and Aetna generously sponsored the event.
To see if you are eligible to participate in one of the trials described in this article, please call Callie Hebert at (225) 763-0270 or email her at callie.hebert@pbrc.edu.
Article was highlighted in Pennington Biomedical Research Foundation's monthly snapshot.