About LA CaTS
News
NIH Announces Webinar: Studying COVID-19 Using Real-World Data (N3C) May 13th
Released: Monday, May 03, 2021
NIH and N3C announced an upcoming Zoom presentation from Dr. Kenneth Gersing (NCATS) on "Studying COVID-19 Real World Data: Lessons Learned and Steps Forward After One Year of the National COVID Cohort Collaborative (N3C)", on Thursday, May 13th at 12:00pm. This event is co-sponsored by the LA CaTS Center.
See flyer HERE.
Zoom link: https://unmc.zoom.us/j/93087267460
Passcode: 140321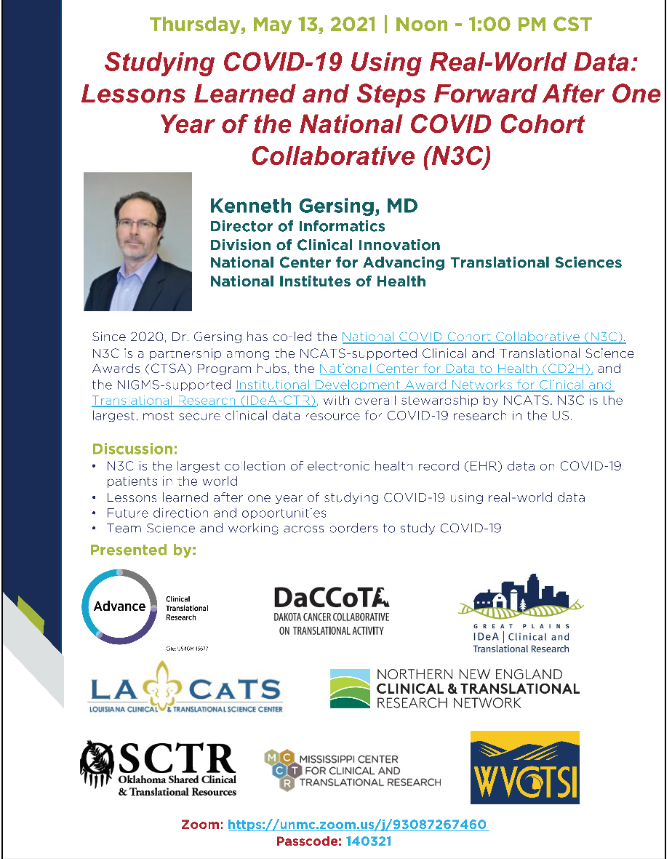 ###
About the Louisiana Clinical and Translational Science (LA CaTS) Center
The LA CaTS Center is comprised of three primary
collaborating institutions
in the state, including LSU's Pennington Biomedical Research Center in Baton Rouge, LSU Health Sciences Center in New Orleans, and Tulane University School of Medicine in New Orleans – and also includes six research partners: LSU Health Sciences Center in Shreveport, Louisiana State University in Baton Rouge, and in New Orleans, Xavier University of Louisiana, Children's Hospital, Ochsner Health System, Southeast Louisiana Veterans Health Care System, and University Medical Center. The LA CaTS Center's vision for Louisiana encompasses the strengths and capacities unique to each member institution and represents a unified, comprehensive approach for targeting prevention, care and research of chronic diseases in the underserved population. The scholar program is supported in part by U54 GM104940 from the National Institute of General Medical Sciences of the National Institutes of Health which funds the Louisiana Clinical and Translational Science Center. For more information, please visit
www.lacats.org.