LA CaTS Center Community Scholars Program (LaCoSP) Request for Applications 2023-2024
*No longer accepting applications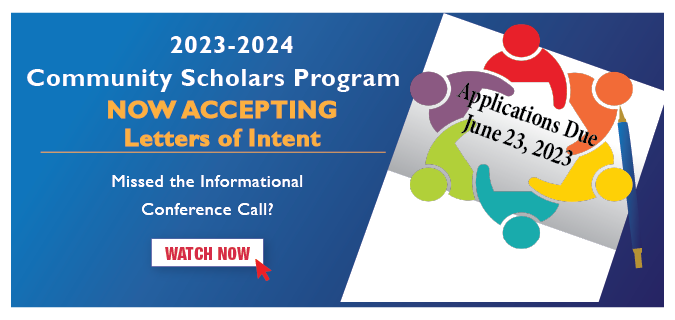 KEY DATES
Dates are subject to change
*Revised 6/15/23)


Release Date

Friday, May 5, 2023

Information Session (conference call)

Friday, May 12, 2023 (3:00pm CST)

Letter of Intent Due

Friday, Jun 23, 2023 (5:00pm CST)

Applications Due

Friday, Jul 7, 2023 (5:00pm CST)

Applicants Contacted on Award Status

Jul 28, 2023

Formal training period (1)

Aug-Sep, 2023

IRB approval

Aug-Sep 2023

NIH approval and grant award disbursement (2)

Sep-Oct 2023

Start of pilot projects (2)

Oct 2023

End of pilot projects and final report

June 30, 2024
(1): The times and dates of the formal training sessions will be determined with the accepted applicants.
(2): Grant award disbursement require NIH and IRB approvals. Dates and values vary according to project needs and status as well as university administrative process.
Contacts
LaKeisha Williams, PharmD., MSPH, LACaTS Community Engagement Core, Director, llgeorge@xula.edu
Margarita Echeverri, PhD., MSc, LACaTS Community Engagement Core, Associate Director, mechever@xula.edu, 504-520-6719
Informational Conference Call
The recording from the informational conference call can be found here. Please email mechever@xula.edu for further questions.
Purpose
The goal of the LaCoSP is to increase the capacity of community-academic partnerships to conduct community engaged research with mutual ownership of the processes and products, and with the ultimate goal of improving the health of residents of Louisiana and the nation. LACoSP pilot projects are intended to inform future grant applications by each LaCoSP team for state, federal, foundation and other sponsor funding considerations.
Goals
Increase academic research investigators' participation in community engaged research
Promote collaboration and trusted partnership between community-based organizations addressing health disparities and translational researchers within the LA CaTS Center institutions.
Fund multiple PI (Community & Academic) pilot projects relative to community needs, which are congruent to the goals, mission and vision of the LA CaTS Center.
Stimulate subsequent research funding, projects and peer-reviewed publications
Overview and Competencies
The Louisiana Clinical and Translational Science (LA CaTS) Center Community Engagement and Outreach Core (CEO) is accepting applications for LA CaTS Community Scholars Program (LaCoSP), Cohort 5 (2023-2024). The program provides formal training and pilot project funds for teams comprised of a community and an academic partner interested in conducting community-engaged and community-based participatory research (CBPR) studies.
Participants successfully completing LaCoSP, will have the skills to:
Articulate the concepts and components of CBPR and other methods for community engaged research
Apply community engagement principles in the conduct of research
Communicate with audiences in both community and academic settings about community engagement principles and components
Design and implement a pilot community engagement study to address a shared community health priority
Incorporate community engagement principles and approaches in funding applications

Develop a 3-4 years plan for subsequent community engagement research funding based on pilot results
Priorities
The LA CaTS Community Advisory Boards and results of community needs assessment identified the following health issues as a priority for research in Louisiana: obesity, cardiovascular disease, social determinants of health, maternal and child health, and mental health. We look forward to seeing how team projects align with these priorities and/or to expanding this list of health research needs based on input from communities and research teams across the state.
Program Details
The program is divided into four key components
Proposal submission
During the application period, each team prepares and submits a preliminary pilot grant proposal as part of the LaCoSP application. Teams submitting a proposal should follow instructions providing along this document, including the assessment of the status of their collaboration.
Formal Training
Considering that team members may have different levels of expertise when writing a proposal as well as working on community engagement projects, LaCoSP provides formal training and mentorship to help in the improvement of the proposal and successfully submission for LA CaTS and NIH revision and final approval. The formal training consists on a series of approximately 90-minute training sessions. In order to facilitate attendance, the sessions could be scheduled together (one day-long or two half days), according to the needs. Team members are required to attend and actively participate in the sessions, complete assessment, if any, and provide feedback evaluations. Excused absences should be submitted two days in advance and will be accepted according to the circumstances. Topics to be addressed, dates and venue for these sessions will be determined after the cohort members have been selected for each cycle. The sessions may address topics related to community engagement and building and sustaining partnerships; grantsmanship following NIH requirements; working with culturally diverse populations; addressing low health literacy; understanding and applying ethical principles in community research; developing outcomes evaluation plans; and career development, among others. Inter-professional faculty and community members conduct these training sessions. Optional online modules, as needed, will be recommended to all participants to help build research capacity.
Mentorship
In the proposal, each team should identify a community and/or academic mentor, according to the team's needs and field of choice. A statement about how the mentor(s) will help guide the development, implementation, and evaluation of a pilot project should be included in the proposal, as well as the respective letter(s) of support. Mentor(s) should have expertise and success with community engagement methods and/or with the health topic addressed by each team. Teams are expected to meet with their mentor(s) at least once a month. If you need a mentor(s) for your project but still have not one identified and/or committed to the project, describe expertise required and LaCoSP staff will help you to find one.
Proposal Refinement Phase
During this phase, teams receive assistance from their mentor(s) and LaCoSP faculty and staff to refine the proposal. Special considerations are listed below. During this proposal refinement phase, awardees will receive detailed instruction on how to proceed. As guidance, below is the preliminary timeline for this grant cycle.
KEY DATES
Dates are subject to change

Awardees receive proposal evaluation feedback

Friday, Jul 28, 2023

Formal training begins (1)

Week Aug 1-4, 2023

CITI training certificates due

Friday, Aug 11, 2023

IRB application due

Friday, Aug 11, 2023

Final CBPR project proposal due

Sep 1, 2023

IRB approval due

Sep 1, 2023

Formal training ends (1)

Week of Sep 4-8, 2023

NIH approval and grant award disbursement (2)

Sep-Oct 2023

Start of pilot projects (2)

Oct 2023

Quarterly project reports

Dec 2023, Mar 2024

End of pilot projects and final report

Jun 30, 2024
(1) The times and dates of the formal training sessions will be determined with the accepted applicants.
(2) Grant award disbursement require NIH and IRB approvals. Dates and values vary according to project needs and status as well as university administrative process.
BUDGET: The budget amount awarded is dependent upon NIH funds and/or agreeable institutional available funds. The funding available for each project is determined by the LA CaTS Center Executive Committee and each team should discuss budget details with the LaCoSP leaders.
FINAL PROPOSAL DOCUMENTS: Documents required for administrative and NIH approval of the project include designated NIH forms (i.e. face page, performance sites, budget pages, etc.), regulatory approval, applicable human subjects' protection section, training certificates, among others.
LACATS/NIH FINAL AWARD APPROVAL AND FUNDS DISBURSEMENT: Each pilot project full proposal and the associated IRB application submission is peer-reviewed by LaCoSP/LA CaTS and NIH staff. The LA CaTS Center Administrative Core facilitates the administrative and NIH approvals of projects. All community scholar pilot projects MUST receive LA CaTS administrative approval (which includes NIH prior approval) before the project can begin and funds (up to $10,000 in total costs) can be released.
PROJECT MANAGEMENT AND PERFORMANCE: Following the principles of community-engagement and community-based participatory research, both the academic and the community principal investigators assume similar responsibilities in the management and performance of the project. However, the academic PI is responsible for the submission of the proposal, IRB protocol and the general administration of the project and funds received.
Program Requirements & Eligibility
Team Structure
Each team must consist of at least one community partner and one academic partner.
An academic partner is an individual(s) with a faculty appointment at any LA CaTS Institutions, including Pennington Biomedical Research Center, LSU Health-New Orleans, Tulane University, Children's Hospital, LSU A&M, Xavier University of Louisiana, LSU Health-Shreveport, or Ochsner Health.
A community partner is defined as an individual(s) who maintains a primary affiliation (employed full time) with a community organization and who is not affiliated with an academic and/or healthcare institution. For the purpose of this program, community organization is defined as an organization that has:
a documented interest in improving the health of the relevant community (e.g., a mission statement); and

a history of serving the health needs and interests of the relevant community.
These organizations may include, but are not limited to public schools, community-based organizations, faith-based organizations, community-based health provider organizations and/or advocacy groups.
Note: The intent is to foster community organizations to conduct research. Community partners with high prior research experience will not be allowed to apply as the community principal investigator.
Attendance
To ensure that each participant has the ability to meet each LaCoSP competency and that each team gains the necessary skills to carry out a community-engagement project, the following attendance policy applies:
At least one academic AND one community member of the team must be present (either in person or online) for each session. For each individual participant, only two absences are allowed. Failure to comply with the stated attendance policy jeopardizes the pilot project funding for a team and the certificate of completion for an individual member.
Collaborative Institutional Training Initiative (CITI) Training
Each member of the teams accepted into the LaCoSP must complete the Collaborative Institutional Training Initiative (CITI) training(s), required for the respective academic organization, before submitting the IRB protocol. Team members must complete the training individually. Community partners may need to login information at the academic institution to have access to the CITI training. Teams will receive additional information on how to complete CITI training(s) when they are accepted into the program.
Points of Contact
Applicants must designate a study point of contact, defined as the person responsible for reporting requirements, budget management and communication with all members of the team. Applicants must also designate the academic department financial point of contact who will manage the LaCoSP pilot funds if awarded.
Application Process
LaCoSP application materials are available for download at the LA CaTS Funding Opportunities webpage: https://lacatsfunding.pbrc.edu/members/researchfunding/default.aspx (UPDATE)
I. Letter of Intent
Please send a Letter of Intent signed by academic and community partners with a brief 2-3 sentence statement describing your research project. A Letter of Intent Template (See attachment I) is available as an attachment on this document and is due June 23, 2023 at 5:00pm CST by email to info@lacats.org. Please include "LaCoSP Letter of Intent – Cohort 5" in the subject line of the email.
II. Full Application
Details for completing each section and requested information are provided below. Please complete ALL sections of the LaCoSP application materials in the following order:
Cover Page (1 page):
Include: 1) the title of the project; 2) the priority health condition addressed with the project; 3) name, position and contact information of the academic and community PIs; 4)

academic department financial point of contact; 5) a mentorship statement specifying the availability or need to have a mentor assigned to the project;

and 6) a one paragraph abstract of the project (See template in Attachment II).


Community and Academic Partnership (1 page):
Describe: 1) the team and purpose of the partnership; 2) date and description of established partnership; 3) the work you have previously completed as partners; 4) the process of identifying project health issue and development of the proposal; 5) your ability as a team to carry out a community-based participatory research (CBPR) project in partnership. Consider addressing your team's capacity, resources, support, experience, training and role in the proposed project.
Note: Attach as appendix the signed Memorandum of Understanding (MOU). See template in Attachment III.


Proposal Section
(no more than 5 single-spaced pages, 11-point font, half-inch margins– not including citation references)

Note: You will revise this proposal during the course of the formal training. Although study tools (e.g., surveys and focus group questions) do not have to be finalized for the initial application, drafts and/or validated tools to be used/adapted should be attached to the proposal.
C.1. Significance: (approx. 1/2 page recommended)
Describe the research problem and research question.
Why is this problem important?
Why is this project worth doing?
C.2. Innovation: (approx. 1/2 page recommended)
How will this work advance the field or contribute to the needed body of knowledge?
How will this work lead to changes in the way people think about or handle a problem?
C.3. Approach: (approx. 2 pages recommended)
Engagement Plan: Describe past or intended efforts to engage your community of interest in terms of participant involvement, support and the nature of outcomes.
Specific Aims (recommend no more than 3 aims) and program outcomes
Methods: Study design; target population; variables/outcomes/measurements; brief data management; statistical analysis plan; human subject issues and approaches; and activities timeline
C.4. Impact: (approx. 1 page recommended)
Short-term project goals
Long-term project and team partnership goals
How does this work advance the aims of community engagement and translational research?
Why and how will this initial investment of money and effort lead to research that impacts health of people and communities?
Team and environment: Describe the development and mentorship goals and plans for your team
Specifically outline next steps leading from this work to additional funding and research dissemination.
C.5. Mentorship: (approx. 1/2 page recommended)
Do you need a mentor(s)? yes, not, maybe. Justify your answer
Types of mentor(s) do you have and/or need
If you already have a mentor(s) for your project: a) describe expertise and expected contribution of your mentor(s) in the project; b) include a mentorship plan; and c) attach the mentor(s) bio-sketches and respective letter(s) of support
If you need a mentor(s) for your project but still have not one identified and/or committed to the project, describe expertise required and LaCoSP staff will help you to find one
C.6. Budget: (approx. 1/2 page recommended)
Brief description of the planned expenses to be covered with the pilot funds (See template in attachment IV)
NOTE: The budget and amount awarded for the pilot project will be determined in the pilot grant proposal refinement stage. Funds for the project will be managed by the academic partner's institution that is a LA CaTS Center member institution.
C.7. Biographical Sketches / Resumes
A biographical sketch, also known as a bio-sketch, is a standardized format to summarize achievements, skills, education and formal training. The most common format of bio-sketch used by academic researchers is from the National Institutes of Health which recently updated the required format (See Template in Attachment V).
LaCoSP Academic partners and mentors, if any, are required to submit an NIH-formatted bio-sketch. Go to https://grants.nih.gov/grants/forms/biosketch.htm for a template, examples, and for more information.
LaCoSP Community partners are encouraged to submit an NIH-formatted bio-sketch. However, it is also acceptable for Community partners to submit a resume describing their experience, education, accomplishments, and awards.
Appendices: Reasonable appendices (no more than 10 pages) can be included to describe details related to tools, surveys, interview guide(s), figures, etc. and are not counted as part of the 5-page proposal. Letters of support from Mentors, project sites, and additional collaborators are highly recommended.
III. Submission Process
Combine all completed application materials in the order above (A-C) and all appendixes into ONE PDF file.

Applications should be submitted on the LA CaTS Center SPARC Request online system at https://sparc.lacats.org.

First time users need to create a Login and Password as prompted on the LA CaTS Center SPARC Request online system at https://sparc.lacats.org.
Applicants can also review services and request consultations at any time in the application process with the LA CaTS Center cores and resources through SPARC.
Submit one application per community-academic team. Complete application must be received no later than 5:00 PM CST, Jul 7, 2023.
Application Review Process
All applications are reviewed and scored under a two-step process:
Eligibility Criteria Screening Process – All applications are screened for eligibility by LA CaTS/CEO staff and leadership, based on the online information and completed LACoSP Application submitted. Applications received after the due date are NOT accepted.
Panel Review Process – All applications successfully meeting the minimum eligibility requirements are reviewed and scored by a community-academic review panel. Applications are scored according to the criteria listed below:

Partnership capacity - strength of partnership to carry out stated goals:

Ability of partnership to work together to achieve stated goals
Resources and support available to community and academic partners
History of partnership
Experience of both partners in the targeted community and health promotion topic
Training of community and academic partners
Quality of the proposed research
Potential for continued research funding



Significance of the community health issue to be addressed in the pilot project.


Approach of pilot project:

Incorporation of participatory methods for community and academic partners
Innovation
Scientific sound of research methods proposed
Appropriateness of approach to meet short-term and long-term goals of project
Potential for future funding by the team



Scoring – Applications are scored modeled on the 9-point NIH scoring system which weighs strengths and weaknesses and designates if has minor, moderate, or major weaknesses.
Strength

Score

Descriptor

High

1

Exceptional

2

Outstanding

3

Excellent

Medium

4

Very Good

5

Good

6

Satisfactory

Low

7

Fair

8

Marginal

9

Poor
Notice of Award
Teams with the best scores will be admitted into the LaCoSP. Successful applicants will be notified if they have been accepted into the program on July 28, 2023.
Further Information
An informational conference call will be held previous to the proposal submission deadline. Refer to the first page of this RFP for details.

For questions or research support when developing your LaCoSP application proposal, please contact the LA CaTS

Community Engagement and Outreach Core (Xavier University office)

at

504-520-6719/mechever@xula.edu.
Further information regarding the Community Engaged Scholars Program application can be found on the LA CaTS Funding Opportunities webpage: https://www.lacats.org/research-funding/community-scholars/
Related files:
2023-2024 Community Scholars RFP - Revised
Application Checklist & Attachment Templates