News & Publications
Latest News
LA CaTS Welcomes Dr. Leanne Redman as Professional Development Co-Director
Released: Tuesday, February 04, 2020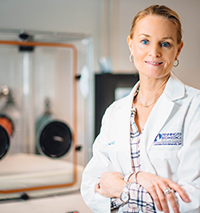 The LA CaTS Center welcomes Leanne M. Redman, MD, PhD as the new Professional Development Core Co-Director and lead for Pennington Biomedical Research Center. Dr. Redman is replacing Dr. Phil Brantley, who has been the professional development lead for Pennington Biomedical since 2012. She will co-direct the Professional Development Core along with Vivian Fonseca, MD (Tulane University, lead) and Paula Gregory, PhD (LSUHSC-New Orleans). The overall goal of the Professional Development Core is to educate and train academic faculty and trainees to pursue clinical/translational research to improve health outcomes and reduce health disparities of Louisiana residents.Click HERE (https://www.lacats.org/key-components/professional-development/) for more details on the LA CaTS Professional Development Core.
Dr. Redman is an expert in human metabolic phenotyping and well-known in the fields of obesity, lifestyle medicine and energy metabolism. For the past 15 years Dr. Redman has been at Pennington Biomedical Research Center where she established a research program in Reproductive Endocrinology and Maternal/Infant Health. Dr Redman directs studies that involve comprehensive metabolic phenotyping in unique populations including women with polycystic ovary syndrome (R00HD060762), pregnant women and infants (R01DK099175). These in-depth prospective interventional studies assess insulin sensitivity by way of the hyperinsulinemic euglycemic clamp or oral glucose tolerance test, body composition and fat distribution by MRI and energy expenditure and substrate oxidation by indirect calorimetry. Her studies have directly led to the development of randomized controlled trials to promote optimal gestational weight gain (U01DK094418; R01NR017644). Dr. Redman is a pioneer of comprehensive phenotyping in infants, performing classic studies of developmental programming in mother-infant dyads to understand the maternal influences on offspring energy metabolism, eating behavior and weight gain. Given the need to conduct well-controlled intervention studies, Dr Redman participated in the development and validation of dynamic mathematical models that predict changes in weight and energy intake in humans in response to over- or under- feeding. These models are the cornerstone of two eHealth interventions (SmartLoss® and SmartMoms®) co-developed and tested by Dr Redman. The SmartLoss® program is licensed to an international Company for a global roll and a provisional patent application for the innovative weight management program has been submitted. Dr. Redman is an inspirational, thoughtful and enthusiastic mentor of undergraduate, graduate and postdoctoral scholars. Dr. Redman's mentees have received awards and recognition at National and International Societies and independent funding through the NIH. As a reflection of her commitment to mentoring Dr. Redman was awarded the 2018 National Postdoctoral Association, Garnett-Powers & Associates, Inc. Mentor of the Year Award. Dr. Redman is an experienced clinical researcher with more than 175 published works around energy metabolism insulin sensitivity, obesity, calorie restriction and exercise and an active program in maternal and infant physiology.
To contact Dr. Redman or the Professional Development Core, please email CareerDevel@LACaTS.org.
###
About the Louisiana Clinical and Translational Science (LA CaTS) Center
The LA CaTS Center is comprised of three primary
collaborating institutions
in the state, including LSU's Pennington Biomedical Research Center in Baton Rouge, LSU Health Sciences Center in New Orleans, and Tulane University School of Medicine in New Orleans – and also includes six research partners: LSU Health Sciences Center in Shreveport, Louisiana State University in Baton Rouge, and in New Orleans, Xavier University of Louisiana, Children's Hospital, Ochsner Health System, Southeast Louisiana Veterans Health Care System, and University Medical Center. The LA CaTS Center's vision for Louisiana encompasses the strengths and capacities unique to each member institution and represents a unified, comprehensive approach for targeting prevention, care and research of chronic diseases in the underserved population. The scholar program is supported in part by U54 GM104940 from the National Institute of General Medical Sciences of the National Institutes of Health which funds the Louisiana Clinical and Translational Science Center. For more information, please visit
www.lacats.org.