News & Publications
Latest News
Navigator to Guide Clinical and Translational Researchers at Tulane and LSU Health Sciences Centers and Pennington Biomedical Research Center
Released: Thursday, June 20, 2013
We are pleased to welcome Pareen Shenoy, MBBS, MPH as our Clinical Research Navigator. Clinical and translational research faculty and trainees at the LSU and Tulane Health Sciences Centers (LSUHSC and TUHSC) and Pennington Biomedical Research Center (PBRC) now have a partner to assist in the development of innovative, investigator-initiated clinical trials. Dr. Shenoy serves as a resource for PIs from all three institutions to help enrich and facilitate the progress of clinical research protocols from conception to analysis and publication of data.
Dr. Shenoy is the first point of contact for trainees and junior faculty interested in pursuing investigatorinitiated clinical research. She will help guide the clinical investigator throughout the life of the study.
She will meet with the PIs as they draft their study and become familiar with the needs for their protocol. Dr. Shenoy will then facilitate the PI's use of biostatistics, bioinformatics, clinical research resources, and other resources and services available at the three institutions through the established cores. She will also assist the PIs in negotiating the administrative and regulatory pathway in order to accelerate a protocol's implementation. Once a study begins to accrue patients, she will help the PIs troubleshoot a variety of protocol issues, including accrual, compliance, data management, and the eventual publication of the study's findings. Additionally, Dr. Shenoy is a critical link to the established clinical and translational investigators who serve as mentors at the three institutions.
The access to navigator help will be prioritized. LA CaTS meritorious scholars, roadmap scholars and the PIs of the pilot grants program and their mentors have preferred access. Faculty can apply for clinical research navigator assistance by contacting Dr. Pareen Shenoy at CareerDevel@lacats.org. Remember...giving someone a fish is valuable; teaching someone how to fish is more valuable.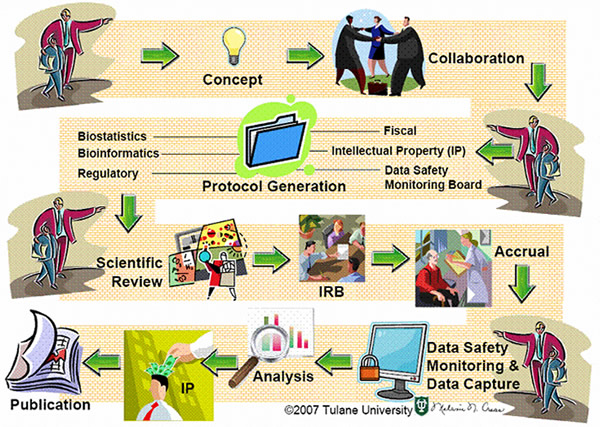 The above schematic illustrates the role of the clinical research navigator.
###
About the Louisiana Clinical and Translational Science (LA CaTS) Center
The LA CaTS Center is comprised of three primary
collaborating institutions
in the state, including LSU's Pennington Biomedical Research Center in Baton Rouge, LSU Health Sciences Center in New Orleans, and Tulane University School of Medicine in New Orleans – and also includes six research partners: LSU Health Sciences Center in Shreveport, Louisiana State University in Baton Rouge, and in New Orleans, Xavier University of Louisiana, Children's Hospital, Ochsner Health System, Southeast Louisiana Veterans Health Care System, and University Medical Center. The LA CaTS Center's vision for Louisiana encompasses the strengths and capacities unique to each member institution and represents a unified, comprehensive approach for targeting prevention, care and research of chronic diseases in the underserved population. The scholar program is supported in part by U54 GM104940 from the National Institute of General Medical Sciences of the National Institutes of Health which funds the Louisiana Clinical and Translational Science Center. For more information, please visit
www.lacats.org.