LA CaTS Cores & Resources

Daniel F. Sarpong, PhD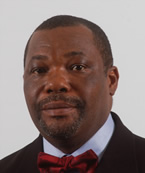 Dr. Sarpong is an enthusiastic and energetic leader, researcher, consultant, public health professional and educator and with strong quantitative background and verbal skills.  He is currently a Director of the Center for Minority Health and Health Disparities Research and Education, Endowed Chair of Health Disparities and Associate Professor of Biostatistics. 
Prior to returning to Xavier University of Louisiana he was Research Professor with the School of Health Sciences, Senior Biostatistician with RCMI Translational Research Network Data Coordinating Center, and Associate Director with the Center of Environmental Health at Jackson State University. Dr. Sarpong, in 2000-2010, served in various capacities/positions at the Jackson Heart Study (JHS), the largest single site epidemiological investigating the etiology and progression of cardiovascular disease in African Americans. He was Director of the JHS Coordinating Center (JHSCC), Director of Data Management, Quality Assurance, and Information Technology, Co-Principal Investigator and Senior Biostatistician of the JHSCC. Dr. Sarpong's research interests are in Cardiovascular Disease & Health; HIV/AIDS; Pharmacoeconomics and Outcomes Research; Statistical and Mathematical Modeling; and Health Informatics. 
The programmatic focus of Dr. Sarpong's research is in the areas of large epidemiological studies and lifestyle modification intervention trials designed to mitigate health disparities. The last 12 years of his research career has been focused on translational research exploring innovative approaches to mitigating both biological and social determinants of health disparities in the areas of obesity and Type 2 Diabetes Mellitus, cancer, and drug abuse and HIV/AIDS.
Professionally, he is a scientific reviewer for: 1) American Health Association, and 2) International Society for Pharmacoeconomics & Outcomes Research for conference abstracts, 3) RCMI Annual Symposia and 4) Chair of Abstract Committee for Xavier University College of Pharmacy Health Disparities Conferences; Ad-Hoc Grants reviewer for: National Institutes of Health (Cardiovascular Epidemiology), Centers for Disease Control and Prevention, and American Cancer Society; Reviewer of scientific manuscripts for: the  Intl. Journal of Environmental Research and Public Health and American Heart Association,  AHA Journal on Stroke; and editorial board member for Ethnicity & Disease.