Meritorious Scholars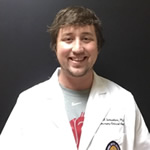 Derrick Samuelson, PhD - LSUHSC
Mentors: Judd Shellito MD and Alistair Ramsay, PhD
Alcohol Use and Susceptibility to Bacterial Pneumonia
Dr. Derrick Samuelson is a post-doctoral fellow at Louisiana State University Health Science Center in the Department of Medicine. Dr. Samuelson earned his PhD in Molecular Biosciences and Microbiology at Washington State University in 2013. His research was focused on hos-pathogen interactions and cellular signaling, specifically the pathogen Campylobacter jejuni. After completing his PhD, Dr. Samuelson started his post-doctoral fellowship at LSUHSC and started working on the development of a live oral vaccine against Pneumocystis pneumonia and understanding the influences of the intestinal microbiota on pulmonary infection and immunity in immunocompromised individuals.
As a Meritorious Post-doctoral Scholar, Dr. Samuelson will determine if alcohol-induced changes influence the intestinal microbial community. Using an alcohol animal model, he will determine the effects of alcohol consumption on the gastrointestinal, oral, and respiratory microbial tract and pathogen clearance. Specifically, his goal is to evaluate the role of ethanol in pulmonary immune responses and susceptibility to Klebsiella pneumonia. From these findings, Dr. Samuelson hopes to describe the role of alcohol-related immune defects and its influence in patient's predisposition to respiratory bacterial pneumonia.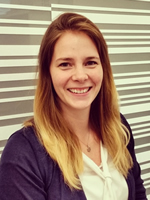 Elizabeth Martin, PhD - Tulane
Mentors: Bridgette M. Collins-Burow, MD, PhD and Jeffrey M. Gimble, MD, PhD
Decellularized Breast Cancer Extracellular Matrix in the Induction of Tumor Metastatic Recurrence
Dr. Elizabeth C. Martin is a post-doctoral fellow at Tulane University in the Department of Medicine. Dr. Martin completed her PhD in Biomedical Research at Tulane University in New Orleans, LA in 2013. Her dissertation focus was the evaluation of the effects of microRNAs, specifically miR-155, on estrogen receptor positive breast cancer cell biology with a focus on estrogen receptor signaling. Following her PhD, Dr. Martin joined the Center for Stem Cell Research and Regenerative Medicine at Tulane University where she used proteomic analysis of patient serum to detect potential prognostic markers and activated pathways involved in the development of heterotopic ossification.
During the LA CaTS Meritorious Post-doctoral Scholarship, Dr. Martin will evaluate breast cancer-derived extracellular matrix as an avenue for tumor recurrence under the guidance of Dr. Bridgette Collins-Burow. It is believed that the tumor microenvironment can support cancer stem cells and maintain stemness. Following primary therapy, residual matrix may remain at the sites of metastasis and instigate signaling to cancer stem cells which can then re-propagate the metastatic lesion. Given the different extracellular matrix compositions of breast carcinomas and normal tissue, the extracellular matrix may act as a pro-tumorigenic agent. The identification and characterization of the tumor extracellular matrix, will lead to novel methods for intervention. Therapeutically-driven alterations to the extracellular matrix may prevent recurrence of breast carcinomas through the removal of a permissible microenvironment.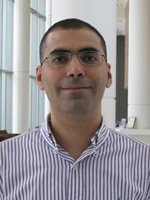 Amir Al-Khami, PhD - LSUHSC
Mentors: Augusto Ochoa, MD and Paulo Rodriguez, PhD
Overcoming tumor-induced immune suppression by targeting fatty acid uptake
Dr. Amir A. Al-Khami is a senior postdoctoral researcher at Louisiana State University Health Sciences Center - New Orleans. The long-term goal of his research is to develop strategies that elicit tumor-specific T cell responses that will be robust and long-lived to generate durable tumor eradication. Dr. Al-Khami completed PhD in cancer immunology under a program between Tanta University Egypt and The Medical University of South Carolina USA. His dissertation established some of the mechanisms by which lymphodepletion enhances adoptive T cell therapy of cancer. Following PhD, he completed a postdoctoral fellowship to study the activation-induced cell death in tumor-reactive CD8+ T cell subsets, in addition to a novel transgenic mouse model of cancer, which was developed in the laboratory using a human tyrosinase epitope-reactive T cell receptor.
In Dr. Augusto Ochoa s laboratory, Dr. Al-Khami is currently focusing on the therapeutic targeting of an immunosuppressive cell population, named myeloid-derived suppressor cells (MDSC), as a means to restore T cell antitumor immunity. Under the LA CaTS Meritorious Post-doctoral Scholarship, he will investigate the role of fatty acid uptake in the regulation of MDSC accumulation and function in cancer.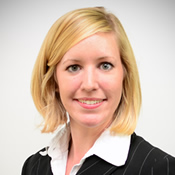 Amanda E. Staiano, PhD, MPP - Pennington Biomedical
Mentor: Peter Katzmarzyk, Ph.D.
Leveraging electronic medical records to explain race disparities in pediatric Type 2 diabetes
Dr. Amanda E. Staiano is a senior postdoctoral fellow in population science at Pennington Biomedical Research Center. Her research focus is pediatric obesity, including the clinical, behavioral, and socio-demographic determinants and correlates of childhood obesity and its ensuing cardiometabolic risks. Dr. Staiano completed her PhD in developmental psychology at Georgetown University where she examined how technological devices like active video games and online advergames affect youths' adiposity, physical activity, and eating behaviors. She then completed the NIDDK-funded T32 postdoctoral fellowship to study the causes and consequences of depot-specific adiposity in youth, including how sex, race/ethnicity, maturational stage, physical activity, and sedentary media use affect children's fat distribution and accumulation. She also examined the relationship between measurements typically assessed in clinic (including body mass index, waist circumference, and blood chemistry for cardiometabolic risk) and direct measures of adiposity using magnetic resonance imaging and dual energy x-ray absorptiometry. She is Principal Investigator on an intramural project sponsored by LSU's Improving Clinical Outcomes Network (ICON) to determine the appropriate screening and diagnostic guidelines for cardiometabolic risk assessment in pediatric patients.
During the LA CaTS Meritorious Scholar fellowship, Dr. Staiano will examine of the rate of fat accumulation as a mediator for the higher incidence of type 2 diabetes among African American versus White adolescents, based on a retrospective cohort study of the pediatric electronic medical records from LSU hospitals and clinics. The proposal addresses a critical gap in our understanding of how obesity may mediate the race disparities in pediatric type 2 diabetes. Dr. Staiano's research will provide a clearer picture of the contributors to type 2 diabetes in children and the best clinical tools for the early detection of obesity, diabetes and cardiometabolic risk during childhood and adolescence.